Flexicord Mini Synch and Charge Cable Reviewed
---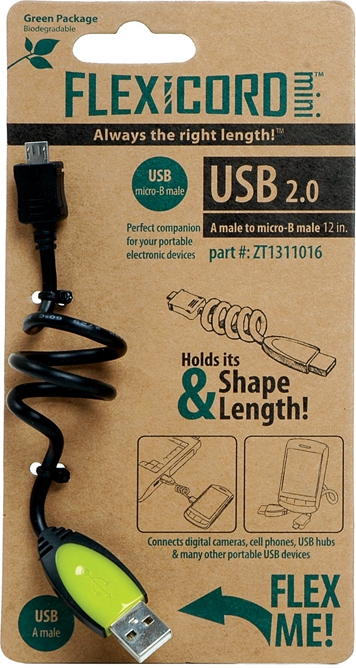 We are approaching cable nirvana. Micro USB is becoming fairly standard for charging and synching lots of devices, meaning that we can now leave our giant bundle of cables at home when we travel. This also means that charging cables are pretty much just a commodity item and we just go for what's cheap. So I was pretty excited when I found the Flexicord Mini since it looked to bring something else to the table and really didn't ask much in return.
The Flexicord Mini is really a simple concept. It's your basic cable, but the insulation is thick and firm and allows you to bend it into a variety of shapes. Besides just being fun, it is great for making a quick and dirty stand for your phone or other small electronic item. I'd been carrying a couple paperclips for just this purpose, but this is better since the rubbery coating will also keep the stand from sliding. The cable has enough material to work with to make a stand that will hold your standard tablet sized phones in either portrait or landscape mode.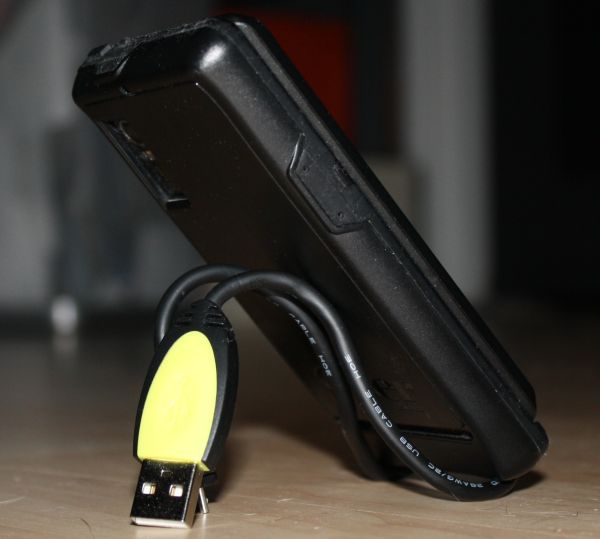 Figure 1: Quick and dirty Droid stand.
The construction feels sturdy and my initial impression is that the integrity of the cable should hold up to being repeatedly bent. I tested this with my Droid and it worked fine for both synching and charging. If you have one or more devices that use micro USB, I'd recommend this as a worthy addition to your gear bag. The Flexicord Mini is $11.95 and available through Amazon.com. [Affiliate]
Chris Gohlke is a Contributing Editor for Thoughts Media. He loves roller derby, poker, RPGs, and Sci-Fi and loves to get his hands on real-life tech gadgets. He lives in Tallahassee, Florida, USA with his wife and three cats.

Do you enjoy using new hardware, software and accessories, then sharing your experience with others? Then join us on the Thoughts Media Review Team! We're looking for individuals who find it fun to test new gear and give their honest opinions about the experience. It's a volunteer role with some great perks. Interested? Then click here for more information.