LG VS750 WM6.5 All-World Phone Coming To Verizon
---
"We first heard wind of this Verizon-bound machine back in December, and now it's been spied by Mr. Blurrycam over at PhoneArena, apparently due for a mid-April release. The QWERTY slider is intended as a world phone, and its list of wireless support certainly sounds comprehensive: CDMA 1x/EVDO Rev A. 800/1900MHz, and GSM/GPRS/EDGE 850/900/1800/190MHz and UMTS/HSDPA."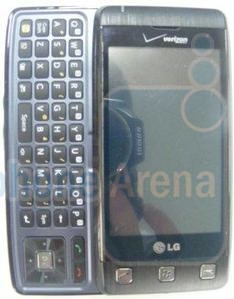 Wow, every radio under the sun, save for WiMAX! In addition the VS750 will sport a 3.2" WVGA screen, a 3.2MP camera, and a Droid-like directional pad on the keyboard. Release date and pricing are still unknown, but given the countdown to WP7S, I'd expect LG and Verizon will want to make hay while the sun shines, so look for this soon.
__________________
"A planner is a gentle man, with neither sword nor pistol.
He walks along most daintily, because his balls are crystal."