Canada Gets Fourth Wireless Carrier: Globalive's Wind Mobile
---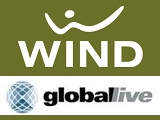 "Canadians will soon have a fourth wireless company offering services to them after the federal government has allowed Globalive Wireless Management Corp. to start operating immediately. On Friday morning, Industry Minister Tony Clement said the cabinet has determined that the wireless company meets Canadian ownership requirements under the Industry Canada Act. Globalive was previously unable to set up shop after the Canadian Radio-Television and Telecommunications Commission turned down its prior attempts, citing the fact that it was owned by Egypt's Orascom Telecom Holding."
This is good news for Canadians - it's hard to say whether this is a play that will include data, or if it's just voice, but I'd have to think that any new player could realize the vital importance of wireless data. I was impressed with Rogers Wireless last year when they introduced a 6 GB data plan for $30 as part of their roll-out of the iPhone - and in fact became a Rogers client at that point - but earlier this week I looked at their data plans again and was stunned to see that their top-end smartphone data plan is 5 GB of data for $80/month. Even their iPhone plans top out at 2 GB of data and 400 week-day minutes for $80/month.
Hopefully Globalive can bring some increased competition in this market - with Rogers and Fido being the only GSM carriers in Canada, and with Rogers owning Fido, there's really only one option for GSM in Canada. And before anyone tells me that Telus is now GSM, they're HSPA-only, so your regular run-of-the-mill GSM phone won't work. And, bizarrely, my HTC HD2 wouldn't recognize their network with a Telus SIM in it even though their IMEI checker says it should. Of course, it's not reassuring that the Globalive Web site won't load for me right now. Hopefully it's not a sign of their competence as a company...