New Music Dock From Altec Lansing!
---
"Today, Altec Lansing introduced the latest member of its inMotion line of music docks -- the inMotion® iM414V2. The inMotion iM414V2 is designed for the Zune HD and Zune in addition to any devices with a 3.5mm headphone jack including CD, DVD and MP3 players. Packed with features including a built-in FM radio, HD Radio technology and an easy to carry design, the iM414V2 is a perfect companion for music on the go."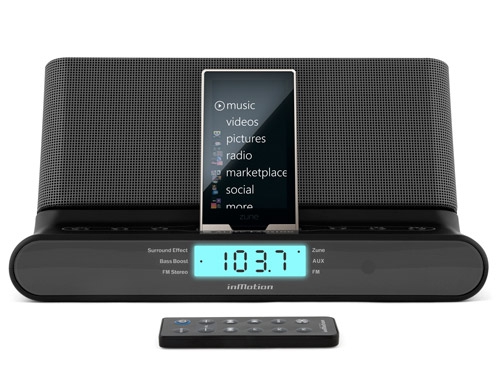 Well this seems like a pretty nice speaker dock from Altec Lansing. The name, iM414V2, really rolls off the tongue too! It appears to be a pretty straight forward dock. It's advertised to fill the room with sound and bass without a subwoofer. I have to say I tried one of their docks before and I was underwhelmed by the sound it produced. It was suitable for your desk at work if you have an office but definitely didn't impress me as I washed my car to it!
This is a newer dock and Altec Lansing generally makes good sound equipment. It's not inexpensive at $99.99 but its also not out of line with similar products. So if you're looking for a gift idea for your Zune this holiday season, the iM414V2 could be the one! Just make sure you write it out in big letters and numbers so people have some idea what you're asking for.
Check out the full press release here.