Home Security Video Style for the iPhone
---
"I was intrigued by Lauren's post the other day where she briefly talked about using the iCam phone app [App Store] to do some baby monitoring. I wondered what else I could do with this US$4.99 app, so I gave it a try with great results."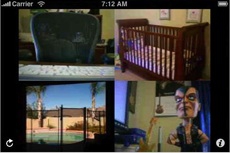 Multiple cameras, easy setup, motion detection that works with push notification - what's not to like? Sounds like an easy setup and works with variety of cameras. We have been considering getting a camera setup for the house and if I could get it to work with this program that would be a great bonus.
__________________
iPhone 4, 1.6 GHz Core 2 Duo MacBook Air, Apple TV, 2.66GHz Intel C2D Mac Mini, 1TB TC, Airport Extreme,several iPods and an iPad, 32GB Wi-Fi version.
Follow me
on Twitter.