AT&T Drops myWireless for iPhone 3G
---
"Manage your myWireless account, right from your iPhone. Pay your bill, view usage, add or remove features, and more."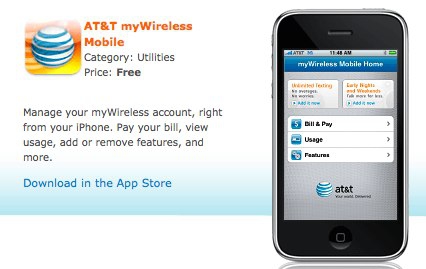 This is a welcome app for me because I tend to end up paying the bill on the full web site in Safari on my iPhone. Much better alternative, in my opinion, than trying to scroll, pinch, and zoom my way around. It works really well and has a nice overall look and feel. Yet another reason I'm pretty happy sticking with AT&T.
__________________
Current Apple Stuff: 24" iMac, iPhone 4, AppleTV (original), 4gb Shuffle, 64gb iPad 2.