Acer's Eight
---
"At a launch event today, Acer and C2O Corporation officially launched eight of these handsets in the Singapore market. Available now are the dual-SIM DX900 ($530 USD), the dual-faced DX650 ($397 USD) and the compact X960 ($463 USD). Expected in May but not yet priced are the F900 and the M900, and then coming later in 2009 are the F1, L1 and C1."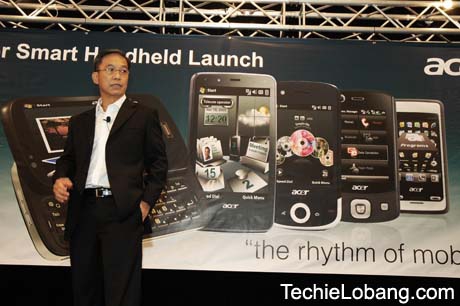 I'm not sure about the marketing angle of this - surely launching 8 models at once isn't exactly calculated to keep your brand staying very long in the consumer awareness. This is especially true since the timing is horrible as Singapore's economy has been among the worst hit in the region from the global downturn. Or maybe that's the whole idea - create a huge splash while everybody else cuts marketing budgets. In any case, Acer's eight models cover the gamut from entry level (two of which we covered here) to the top-end M900 and F900 (due in May). Specs on these are known (hit the link for the rundown), but not for the yet-to-be-available F1, L1 and C1. The F1 is also slated to be high-end, with a rumoured 5MP camera, Qualcomm's Snapdragon chipset running at 800MHz and ATI graphics, while the L1 and C1 are reputed to be budget phones. Credit to TechieLobang for covering the event and taking lots of pics!
__________________
"A planner is a gentle man, with neither sword nor pistol.
He walks along most daintily, because his balls are crystal."