Amazon And Other Online Music Stores Raise Prices...Or Have They?
---
"You kind of knew it wasn't going to last and that this would happen. The day after iTunes put its price increase into effect (some songs for as high as $1.29, some as low as $.69), the other big online music retailers followed suit. Amazon, Wal-Mart, Lala, and Rhapsody, have now raised their prices as well. All but Walmart now list prices for hot selling and new stuff at $1.29 per song. Walmart is at $1.24...Somewhere some music industry execs are smiling and smoking cigars over this."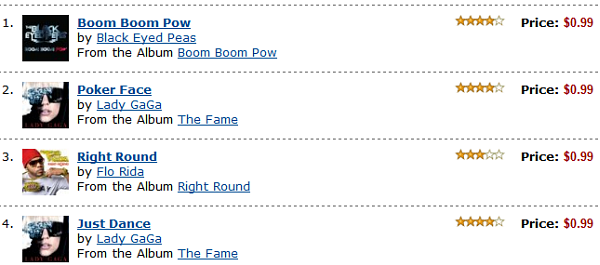 I don't mean to contradict my friends over at GottaBeMobile.com, but I figured I'd check out Amazon before I posted this story - and in the listing of top-selling MP3s, you have to go down to #24 before you see a track for $1.29. In the top 100 songs, only nine of them are more expensive than 99 cents. I also checked the Zune store, and most songs are still 79 points with a handful being 99 points. So hopefully this isn't as wide-spread as the post over at GottaBeMobile would suggest...I gues over the next few weeks we'll see.