Another App Store on the Horizon?
---
"Could this be a threat to the Apples iTunes store? The idea is loading up your applications via USB cable, rather than via iTunes store. This type of app installer would eliminate the need for an iTunes app store."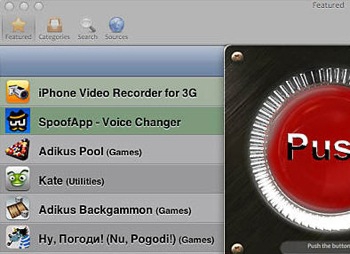 This was originally done for jailbroken phones, and is an app called "Desktop Installer" by the folks at RipDev. The difference now is that it works on regular iPhones. From the RipDev site, it is described as "a desktop variant of our own Installer.app. It will allow you to view and install packages that are present in various Installer and Cydia repositories by downloading them to your computer and then synchronizing via the USB cable with your iPhone."
The InstallerApp is supposed to work similar to iTunes once installed on your desktop and iPhone, notifying you of updated apps for example. They are beta testing this now and are supposed to have 1.0 released soon. So if you have a non-jailbroken iPhone and want to experiment outside the iTunes App Store, this may be worth a look.
My two cents? It isn't something I would even consider. I like the fact that the iTunes App Store is a controlled environment. When an application is released on iTunes, I have pretty good faith that it was checked out and it isn't going to blow up my iPhone. I don't see this being much competition to the iTunes store for the iPhone users with non-jailbroken iphones, iTunes is much too convenient. I'm willing to pay for the convenience, and I think most others are as well. Or maybe I'm not geeky enough? What do you think?
__________________
iPhone 4, 1.6 GHz Core 2 Duo MacBook Air, Apple TV, 2.66GHz Intel C2D Mac Mini, 1TB TC, Airport Extreme,several iPods and an iPad, 32GB Wi-Fi version.
Follow me
on Twitter.