Rumor: Apple Event on March 24th
---
"A source has disclosed to World of Apple that Apple is planning to hold an event on March 24 to unveil new desktop hardware. The source which has been confirmed to be in reach of such information stated that the event would be similar to the notebook event held by Apple last October. World of Apple's source was unable to offer any details on hardware specifics but did speculate that the Mac mini, iMac and Mac Pro would all be refreshed."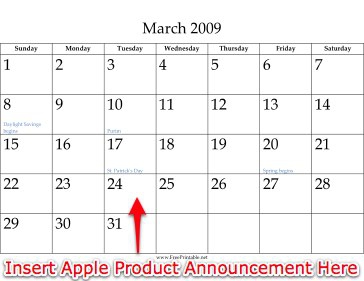 Why not, right? I'm still fiending for the new Mini, the iMac is a bit long in the tooth, and the Mac Pro hasn't been updated since Dinosaurs were buying them, so maybe this has some legs. It'll be interesting to see what comes of this one or if another "event" goes by without an actual event.
__________________
Current Apple Stuff: 24" iMac, iPhone 4, AppleTV (original), 4gb Shuffle, 64gb iPad 2.