Refurbished 3Gs at the AT&T Store Available Now!
---
"If you're looking to jump into the iPhone world, now might be a good time. AT&T is again offering refurbished iPhones on its Web site, but this time with even better deals."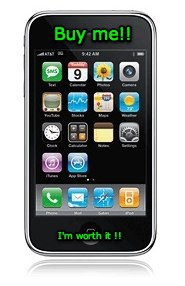 I just checked the AT&T site and they are still offering them so get 'em while they are hot! Seriously, though, it is a pretty good price for a refurbished iPhone 3G. They are offering 8GB for $99USD and either the black or white 16GB version for $199USD. If I didn't already have one, I would seriously consider it now (that is if you can get past the two-year commitment and switching to AT&T).
__________________
iPhone 4, 1.6 GHz Core 2 Duo MacBook Air, Apple TV, 2.66GHz Intel C2D Mac Mini, 1TB TC, Airport Extreme,several iPods and an iPad, 32GB Wi-Fi version.
Follow me
on Twitter.