iWork '09 Incompatibility Issue, Does it Matter?
---
"Apple has acknowledged file compatibility issues with the new iWork '09 software suite that was debuted at the Macworld Expo early in January. Users running iWork '08 will not be able to open files saved in the iWork '09 formats. The issue also applies to Numbers '08, Keynote '08 and Pages '08 documents that are opened and saved using iWork '09."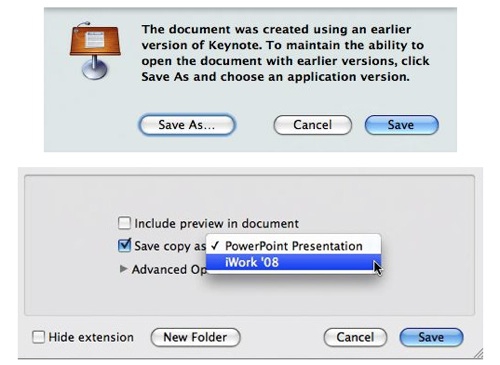 From my understanding, you create a file on iWork '09, and you cannot open it with the older version, iWork '08. However you can open files created with iWork '08 with iWork '09. I personally don't see this as that big of a problem. When I buy new software, I don't expect my older software to be able to open up the new and improved files I created on my newer version software. What is the point? If I want to open it, I should use the version it was created on, or am I off base here?
Apple instructs users to save their documents as iWork '08 files if they need compatibility with the older version so at least there is a work around available from within the iWork '09 program.
__________________
iPhone 4, 1.6 GHz Core 2 Duo MacBook Air, Apple TV, 2.66GHz Intel C2D Mac Mini, 1TB TC, Airport Extreme,several iPods and an iPad, 32GB Wi-Fi version.
Follow me
on Twitter.