Why We Won't Write About the Jobs Rumor
---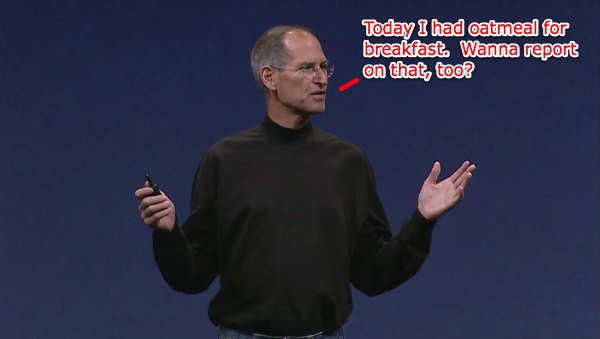 Seeing as Apple Thoughts is relatively new to the scene, I felt it important to clarify why you didn't see us parroting the Steve Jobs rumor from yesterday (contrary to the insane speed with which it spread around the web).
We generally won't report on rumors (and if we do, we always make it super clear that we're not taking a position on them either way) unless they come from a super reliable source (preferrably multiple reliable sources). When I worked for the Apple Phone Show as a Producer and Writer, we were under strict orders to never post a single solitary rumor unless we knew the source and could take heat if it turned out to be untrue. I've let that stick with me to the point where I believe that's the direction I want to take Apple Thoughts in as well.
Ultimately, editorial discretion falls at my feet. For too long, I've watched many Apple-related sites report outrageous and ridiculous rumors as long as they could say they got it from someone or somewhere else. To me, that's as bad as starting a rumor yourself and you're not shielding yourself by not being the source. The Apple blogosphere and news sites live and die by rumors and innuendo, but we won't. I hold myself and my Editors to a higher standard. That may mean we miss a few things or when the broken clock is right for the second time in a day and one of the rumor sites hits one on the nose we'll be second to report it, but that's a sacrifice I'm willing to make to maintain our integrity and keep the trust of our readership.
I'd like to hear your thoughts on this as well, so don't hesitate to leave them in the comments. I do hope you understand where I'm coming from here, and thank you so much for making this site the quick success it has already become. 2009 is going to be a big year for us and I want each and every one of you to be a part of it.
__________________
Current Apple Stuff: 24" iMac, iPhone 4, AppleTV (original), 4gb Shuffle, 64gb iPad 2.