Statistically, $0.99 vs. $0.99+ Means Nothing
---
"Two days ago Craig Hockenberry wrote an open letter to Steve Jobs complaining about the prevalence of 99 cent apps on the App Store and the "rush" to that price point. He suggests the rush to the bottom is damaging the chances of more significant apps being developed for the platform. We've covered the "gold rush" on the iPhone App Store before, and dissected the App Store data to discover that the cheapest apps aren't the ones making the most money (sounds obvious, but many of the complaints assume it isn't so). 99 cent (or free!) apps do no more harm to pricier iPhone apps than open source or shareware apps do to commercial PC or Mac software. But the point still stands.. are 99 cent apps really that popular on the App Store? In terms of quantity, there are a lot, but are they significantly more popular than more expensive apps?"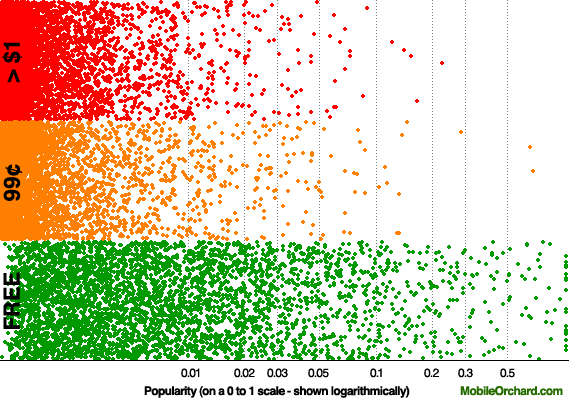 The takeaway here is obvious: pricing your app doesn't, in a tangible way, affect the sales of that application. While Craig Hockenberry may have a point in that applications cost more to develop than meets the eye, his other point, that $0.99 apps are hurting sales of more expensive apps and making the App Store an unsustainable business, doesn't seem to be supported by the numbers.
I have a ton of problems with Hockenberry's "Open Letter," and this is just one of them. I'm glad someone addressed it with statistics rather than anecdotal "evidence."
__________________
Current Apple Stuff: 24" iMac, iPhone 4, AppleTV (original), 4gb Shuffle, 64gb iPad 2.