Glyph: A Strategy Game For The iPhone/iPod Touch
---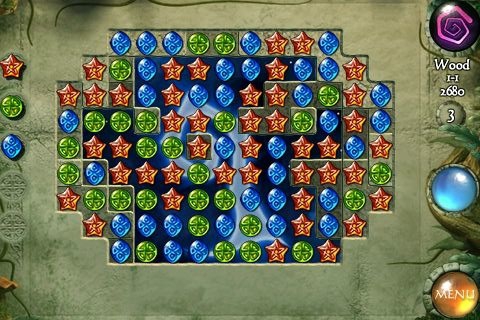 Product Category: iPhone/iPod Touch Game
Developer: Sandlot Games
Where to Buy: iTunes Store
Price: $4.99
System Requirements: iPhone or iPod touch
Specifications: Requires 7 Mb of free space for install.
Pros:
Fun and Addictive;
Challenging, but not overly so.
Cons:
Gems are tiny and hard to hit with big fingers.

Summary:
Glyph is a fun game that can be highly addictive. Gameplay is simple to learn and it's a good game for both casual gamers and fans of strategy games.

Gameplay
Figure 1: Glyph, level 21
Glyph is a strategy game in which the player must remove a rocky barrier to reveal a Glyph that is necessary to save the world of Kuros. To remove the barrier, the player removes colored stones. When 3 or more stones of the same color are next to each other, the player can remove them by touching them. As stones are removed, the stones above them fall into their place and new stones are added from the top of the screen.
The player is aided by artifacts, devices that have various effects, including sorting the stones out by color, or destroying stones of a single color. Using artifacts won't clear away the barrier, but will often position stones in a way that makes it possible to remove them and the barrier beneath them. Artifacts become more powerful as the player clears away more stones.
Challenges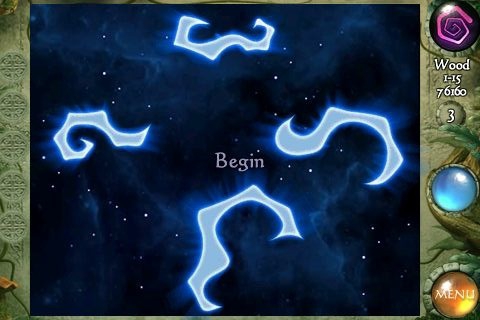 Figure 2: Assembling Glyphs
As the player moves up in levels in the quest mode, the game can become quite challenging. Obsidian stones appear that can only be removed by artifacts. In some levels, these stones contaminate colored stones next to them, turning them into obsidian as well. The player often has to move fast in order to remove the obsidian before it spreads.
After the first few levels, Glyph has a time limit. The player starts with 3 lives and if the time expires before the glyph is revealed, the player loses a life. Removing stones will add more time to the meter. When a player gets 4 glyphs, they must be connected together. This is done by watching the glyphs light up (they also play music) and then touching the glyphs in the same order, much like the pattern matching game Simon. The music in the game to be appropriate to the genre. You can also play music from your iPhone/iPod Touch library while playing.
Fun and Addictive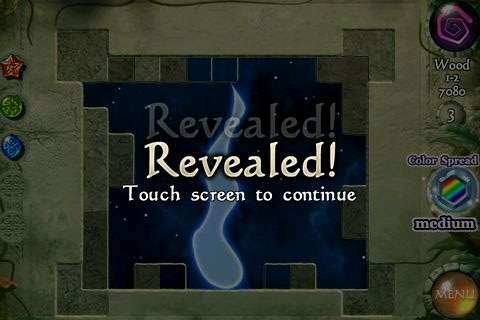 Figure 3: Clearing a level
I found Glyph to be extremely fun and slightly addictive. The first time I played it I continued playing until I wore my battery down to 20%. When I picked it up later, it resumed the game exactly where I left off in quest mode.
Besides quest mode, there's also an action mode where the player must remove stones that fill from the bottom and prevent them from reaching the top of the screen. This was just as much fun as the quest mode and I could easily see myself playing it while in a waiting room or a bus terminal. My only complaint is that the stones are very small for someone like me who has big fingers. More than once I hit the wrong stone, though it was never a catastrophic problem.
Between the quest mode and the action mode, there's plenty of depth for both casual gamers and for the more serious strategy game fan.
Conclusion
Glyph is a fun strategy game for the iPhone/iPod Touch. It has plenty of levels to keep strategy game fans hooked, and an action mode for casual gamers.
Joe Johaneman is a programmer and web designer in Honesdale, PA. Joe is also an amateur photographer and graphic designer.
__________________
iMac 21.5 inch, Macbook 13 inch, 32GB iPhone 4, 8GB 1st gen iPod Touch, 64GB iPad WiFi, AppleTV, iPod Shuffle