App Find of the Weekend: Bix Lite
---
"Bix is a simple yet addictive game in which you control a tracer, that traces lines. When you close a shape you take control of its surface. Take control of 75% of the game surface to reach the next level! Avoid touching the balls while tracing. Trap the special balls to unleash their special power (slow down or extra life). Swipe gestures are used to control the tracer. Make bigger shapes to get more bonus points!"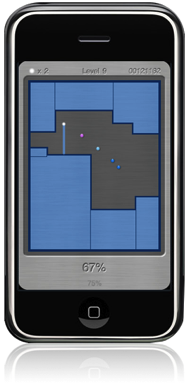 One of my favorite classic games for the Commodore 64 was Qix and it's nice to see someone do a pretty good translation of it for the iPhone. I grabbed the lite one just on the hopes it would keep me occupied for a few minutes at a time, but I think I'm going to shell out for the full version (It's a great big $0.99... I can swing it!) just to support these guys and their game. If you like the classics, give it a go. I have a feeling you'll really enjoy it. Bix and Bix Lite are both available in the App Store right now.
__________________
Current Apple Stuff: 24" iMac, iPhone 4, AppleTV (original), 4gb Shuffle, 64gb iPad 2.