iPhone Software v. 2.2 Available Now
---
"What's in this update:
Enhancements to Maps
Google Street View; Public transit and walking directions; Display address of dropped pins; Share location via email; Decrease in call setup failures and dropped calls.
Enhancements to Mail
Resolved isolated issues with scheduled fetching of email; Improved formatting of wide HTML email.
Podcasts are now available for download in iTunes application (over Wi-Fi and cellular network); Improved stability and performance of Safari; Improved sound quality of Visual Voicemail messages; Pressing Home button from any Home screen displays the first Home screen; Preference to turn on/off auto-correction in Keyboard Settings."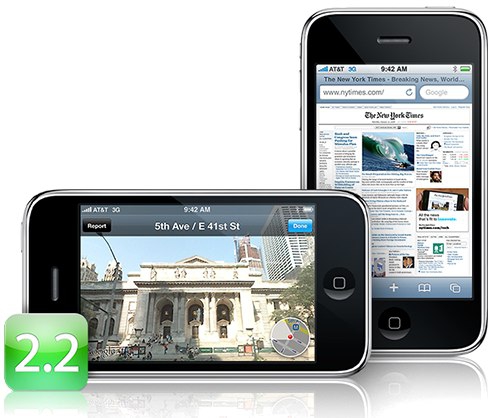 Well, let's be honest. None of this is going to be disruptive, massive, or huge, but it is welcome. I imagine there's more under the hood than above it in this case, and sorry folks, but still no copy and paste. Overall this update is meh-riffic and looks more like an update to Google Maps than the entire OS, but then again, it's only a point-release. I'm doing the upgrade now and will have more to report on after I use it a bit throughout the day. Hopefully it'll be more impressive in real life than it is on paper.
__________________
Current Apple Stuff: 24" iMac, iPhone 4, AppleTV (original), 4gb Shuffle, 64gb iPad 2.