Iconfactory Releases Frenzic for iPhone
---
"Mac OS X users have been playing Frenzic for over a year, but now Frenzic comes alive for Apple's mobile platform as well. The iPhone's revolutionary touch screen interface makes Frenzic a must have for gaming enthusiasts of all ages. Players sort colored pie pieces in a frantic race that tests both the mind and reflexes and offers hours of endless fun."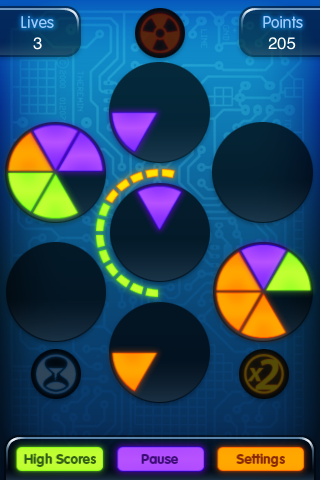 So I was sitting there minding my own business when I got an e-mail from the induplicable Darius telling me that Frenzic for the iPhone was now available. I could hardly believe my eyes! Last year when Frenzic came out, they pleaded with Apple to allow it on the iPhone. They even started a petition! Well the wait is over, and the translation is even better than the original. The touch controls are much more accurate for a game like this, and I can't even imagine playing it on my Mac anymore. Frenzic is available right now for $4.99 in the App Store. If you haven't played it, you're seriously missing out on a very fun game.
__________________
Current Apple Stuff: 24" iMac, iPhone 4, AppleTV (original), 4gb Shuffle, 64gb iPad 2.