HanDBase Available For the iPhone and iPod Touch
---
"HanDBase, a longtime favorite on all other major smartphone platforms, has been modified to fit the unique characteristics of the iPhone platform. Finger-friendly navigation enables users to easily move between fields and records by swiping left or right on the screen. Also unique to this version is the ability to email records and integration of the popular HanDBase Gallery, an online repository of over 2000 database designs that can be installed right from the device."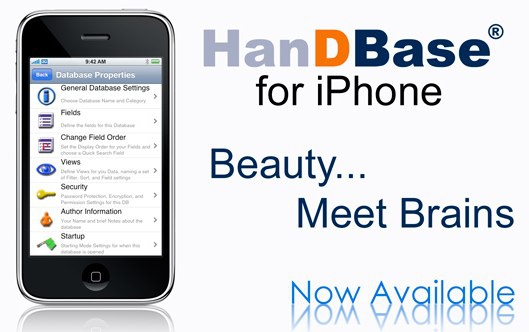 Let's be honest. If you've used a Palm or Windows Mobile device for business purposes, you've probably used HanDBase at some point. I've used it on countless Palm and Windows Mobile (before they were even called Windows Mobile, mind you) devices. It's quick, easy to learn, and powerful. Over the years, they've added all kinds of functionality including synchronization with ODBC databases, something that makes me instantly interested in getting my hands on this one. HanDBase is available now from the App Store and is $9.99.
__________________
Current Apple Stuff: 24" iMac, iPhone 4, AppleTV (original), 4gb Shuffle, 64gb iPad 2.