Touch Physics Released
---
"Can you take on the laws of physics to complete all 30 levels of Touch Physics? Draw shapes with crayons that come to life on your screen. When the wheel reaches the target you proceed to the next level. You move the wheel by creating shapes that interact with the wheel. Touch physics models real physics. Play your own music, change the laws of physics, resume where you last left off and shake to reset. Addictive, fun and fury all in one package."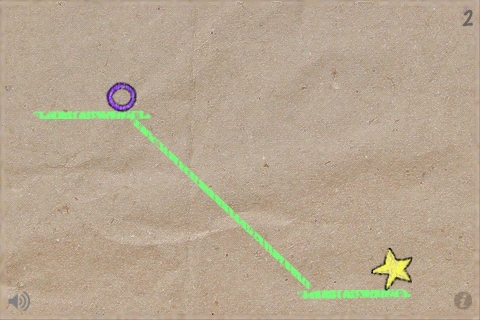 A while back, there was a game called Crayon Physics that hit big with the geek set. Someone hacked up a version for the iPhone back when there were no official Applications or an App Store. Now we finally have a legit version of a Crayon Physics-like game that's a heck of a lot of fun to play. The idea is simple: coax the wheel onto the star. In the above example, you could do that by drawing a circle that would fall on the wheel and launch it down the ramp into the star. Everything observes the rules of physics, making the game much more of a puzzler than it appears. If you haven't tried this one yet, you're seriously missing out. Touch Physics is available today from the App Store for the special introductory price of $0.99 USD.
__________________
Current Apple Stuff: 24" iMac, iPhone 4, AppleTV (original), 4gb Shuffle, 64gb iPad 2.