Review: Box.net for the iPhone
---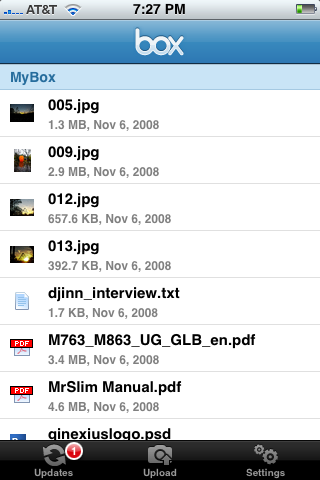 Product Category: iPhone App
Developer: Box.net
Where to Buy: iTunes App Store
Price: Free
System Requirements: iPhone/iPod Touch
Specifications: Box.net requires about 200k for installation, and needs some free memory for downloading files.

Pros:
Allows you to view supported file types on the iPhone/iPod Touch;
Intuitive interface;
You can share files from the app with people in your contact list.
Cons:
Many bugs and easy to crash;
No way to share with people not in your contacts list;
Lack of landscape mode makes reading some documents difficult.

Summary: Box.net's iPhone application is a good idea, but the implementation needs a little work.
Next Best Thing to Syncing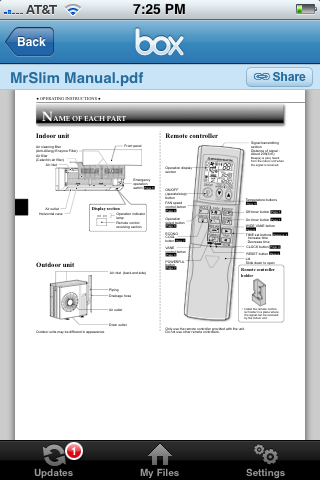 Figure 1: A PDF file from my box.net account rendered on the iPhone.
One of my chief complaints about the iPhone is the inability to sync documents to it. I often resort to emailing myself documents that I know I'll need to access away from home. Box.net provides a better way. Box.net is an online storage site. They provide 1 gigabyte accounts for free. I'm not going to review their storage service here, but the iPhone application they wrote that integrates with their site.

The app works by syncing with your box.net account over Edge, 3G, or WiFi. For files over about 500k, Edge is slow enough to make the application useless, but it's very responsive under WiFi and the 3G network. The application mostly works as advertised. It allows you to access files that are store on your Box.net account on your iphone, as long as the iPhone supports that filetype. That means that you can view pictures, read word documents and PDFs, and listen to MP3s and AACs that are stored in your account. You can't edit the files, but it's a great way to get necessary documents to your iPhone in a field situation.

The application was easy to use. You enter your email address and password and the app displays a list of your files. Touch a filename, and that file will download and render on the screen. You can use the iPhone pinch to resize files. You can even upload pictures from the iPhone to your Box.net account. If it can't render a file, you'll get a message saying "This File Cannot Be Displayed".
Problems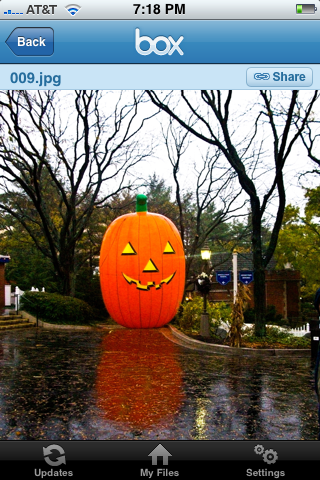 Figure 2: An image file from my box.net account.
I had quite a few problems with this application. The first thing I noticed was that you can't access the last file in your list. When you scroll the page up, that file will "bounce" back below the screen so you can't touch it. I even tried dragging it up with one finger and pressing it with the other finger, and that didn't work. I ended up creating a file called zzzz.txt, which I uploaded as a place holder for the bottom spot. This worked, but I shouldn't have had to do this.

The app crashed twice in less than ten minutes. Both times that it crashed, it brought the iPhone down with it. The first crash appeared to be caused by the fact that I was uploading files on my MacBook to box.net at the same time that I was trying to access that account on the iPhone. This locked up my iPhone, and I had to do a manual reset. The second crash happened suddenly, and with no obviously apparent cause, and the iPhone reset on its own. I contacted box.net's Community Manager Sean Lindo. He told me that the developers are aware of both the scrolling issue and the crashing issue. He says that "these fixes will be pushed out in an update."

There are a few minor issues that could be cleaned up. You can sync files with people in your contact list, but no one else. The app should have a way for you to send a file to any email address. When you download large files, you often don't know how long it will take, so a progress indicator would be a welcome addition. The program doesn't have a landscape mode, so viewing landscape documents involves a lot of pinching and dragging to view them. Sean Lindo told me that box.net is "working on some enhancements that address the minor issues."
Conclusion

This app is a great addition to any iPhone. If you have no patience for dealing with bugs, I'd wait for the next update before installing it. If you can handle the bugginess, though, it's a great app. I'm extremely impressed with the responsiveness of the box.net team to my questions and concerns, and I'm confident that in the next update, this app will be more stable and usable. Despite it's buginess, it's an application I use often, because it fills a need and it fills it well.
Joe Johaneman is a programmer and web designer in Honesdale, PA. He is also an amateur photographer and graphic designer.
__________________
iMac 21.5 inch, Macbook 13 inch, 32GB iPhone 4, 8GB 1st gen iPod Touch, 64GB iPad WiFi, AppleTV, iPod Shuffle