NPD: iPhone Has Surpassed the RAZR
---
"NPD reports that the 3G version of the iPhone surpassed Motorola's RAZR as the leading handset purchased by adult consumers during the third quarter in the United States. That'd be a big deal no matter when it happened, but it ends RAZR's 12-quarter winning streak as the nation's top handset. Not surpassed by BlackBerry (#3), or some offering from LG (#4 and #5), but iPhone. "The displacement of the RAZR by the iPhone 3G represents a watershed shift in handset design from fashion to fashionable functionality," says NPD's director of industry analysis Ross Rubin in a release this morning."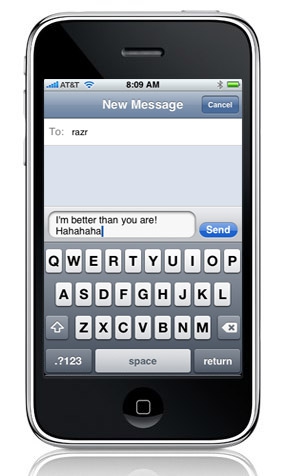 Let's be honest about something. We all knew that some phone at some point would replace the RAZR. It's been the number one phone on the market for so long it's hard to remember what the number one phone was before it (although I'd hazard a guess that it was some model of the StarTac, another Motorola property). The fact that the iPhone 3G is the phone to unseat the RAZR says two things to me.
Firstly, people aren't buying solely on price anymore, or the RAZR would be whipping the iPhone all the way around the block.
Secondly, people aren't interested in limited feature set phones to the degree they were a few years ago.
When you combine these two things, plus a great overall device that has a positive aura around it, it's hard to make the case that this isn't exactly what was "supposed" to happen; the only surprise being it happened this quick.
Anyone else as surprised and not surprised about this as I was?
__________________
Current Apple Stuff: 24" iMac, iPhone 4, AppleTV (original), 4gb Shuffle, 64gb iPad 2.