Rumor: Podcast Downloading in iPhone Firmware 2.2
---
"The new iTunes Store screenshots confirm that Apple will be delivering over-the-air downloads for both video and audio podcasts. According to Schimanke, podcast downloads will be limited to episodes less than 10MB in size when using the cellular network. The screenshots also show off the new App Store category view with icons embedded. Additional 2.2 features previously revealed include the addition of Google Street View and Japanese Emoji icons."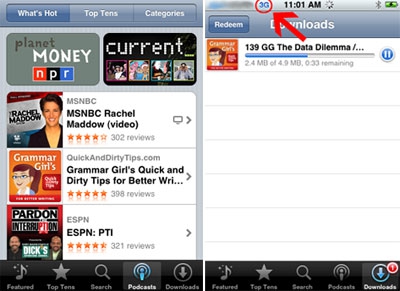 Welcome news? Most definitely. If this rumor turns out to be true, one of the biggest knocks against the iPhone will have been remedied internally and officially. It's also nice, if this screenshot is true, that you don't have to be hooked up via WiFi to use the feature. Me? I don't really care one way or the other. Honestly, I've long since become disenchanted with a lot of podcasts I used to love and only listen to / watch a few of them, but it would be nice to not have to hook up my iPhone to grab the latest episodes. Any of you out there excited about this? Have you been holding out on the iPhone because it didn't do podcast downloading natively?
__________________
Current Apple Stuff: 24" iMac, iPhone 4, AppleTV (original), 4gb Shuffle, 64gb iPad 2.