Executive Editor

Join Date: Aug 2006
Posts: 29,160

Roxio's MyDVD 9: Feature-Rich but Problematic
---

Product Category: DVD burning software
Manufacturer: Roxio
Where to Buy: Amazon.com
Price: $43.49 USD
System Requirements: Minimum requirements include 2 Ghz CPU for full video functionality, 1024 x 768 screen resolution, DirectX 9 or higher compatible video card, 1 GB of hard drive space for a typical install, and 1 GB of hard drive space for every 5 minutes of video captured.

Pros:

Flexible file type input and output options;

Easy to use all the features.

Cons:
Stability issues (it's crash prone);

Transcoding and DVD creation glitches;

No Auto-Save feature.

Summary:
Roxio's MyDVD 9 bears the name of the product that mother-company Sonic had on the market for years, but it's really still Roxio's DVD Maker – and that's not necessarily a good thing from my point of view. From a functionality standpoint, it might be fine for basic DVD projects – if it didn't crash so often. Read on for the full review.Editor's Note: Roxio released version 10 of MyDVD this week. It may or may not fix the issues raised in this review.

Install and Setup
The software installation was straightforward - I entered the serial number and did a complete install from the first disc (which, according to Vista's control panel, takes up 364 MB of storage). Part of the setup process surprised me - the installation prompted me to install the Google Toolbar. I'm used to seeing a Google Toolbar being pimped with free software, or trial versions of some commercial software, but for software that you've paid for? And boxed retail software at that? It seems bizarre that Roxio would accept a subsidy from Google - it's not like MyDVD 9 is any less expensive than MyDVD 8. While all it takes to avoid the toolbar is clicking no, I think this sets a bad precedent. What's next, an AOL trial? After the installation, Windows Defender flagged two system changes that were trying to load at startup: RoxioUPnPRenderer9.exe and RoxioUpnpService9.exe. From the file names the programs seem to be related to UPnP support, likely supporting a feature that allows you to stream content from your PC to a media playback device. My first question was why would I want this service from my DVD burning software? Roxio should focus on making MyDVD the best DVD creation software possible, not including extraneous features.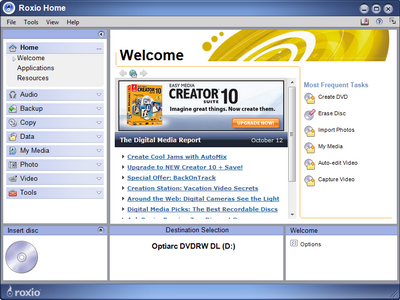 Figure 1: The main interface you see when you start the program - notice the ad for Easy Media Creator Suite 10.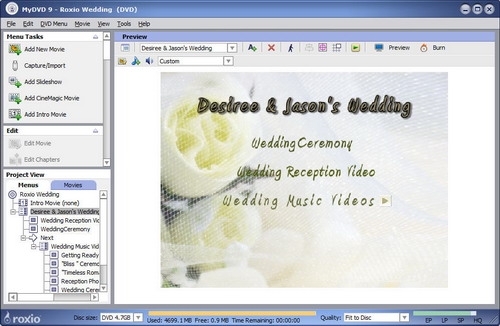 Figure 2: The main interface of MyDVD 9.

Broad Input/Output Support
As you might expect, the software supports a wide variety of audio, video, and image formats. It's quite flexible in terms of the video, audio, and image formats that it can work with. Here's a breakdown:

Input formats: Video: AVI, DV, HD-V, MPEG-1, MPEG-2, MPEG-4, MPEG2-HD, IFO/VOB, DivX, DivX HD, XviD, DVR-MS, TiVo, ASF, MOV, WMV, QuickTime, 3GP, MPEG2 Transport Stream, H.264, OpenDVD

Audio: Audio CD, MP3, WAV, WMA, AAC, M4A, MP4

Image: JPG, PNG, TIFF, BMP, GIF

Output formats: Video: AVI, DV-AVI, HD-V, MPEG-1, MPEG-2, MPEG-4, MPEG2-HD, DivX, DivX HD, WMV, WMV HD, H.264, MP4, 3GP

Audio: WAV, WMA, MPEG-1/2

Image: JPG, PNG, TIFF, BMP, GIF

Video disc formats: DVD, Video CD (VCD), Super Video CD (SVCD), Mini DVD

Recordable media formats: CD-R/RW, DVD+R/RW, DVD-R/RW, DVD-R DL, DVD+R DL, DVD-RAM, BD-R, BD-RE, BD-R DL. Supports popular image formats: ISO, C2D, and BIN/CUE Different Versions, Different Features
So how does MyDVD 9 Studio ($49.99 USD) differ from MyDVD 9 Studio Premier ($69.99 USD)? Here's what the more expensive package offers:
DivX DVD movie production
Blu-ray DVD movie production
Edit DVD movie projects created with MyDVD 5 and MyDVD 6
Set End-of-Play control for DVD movie playback
Make duplicate copies of home movie and slideshow DVD discs
Edit contents of a finished DVD movie disc
Multi-trim Movie Editing
Enhanced Hi-Definition Movie Editing
Remove unwanted background noise from your movie productions
Edit movies and photos recorded on mobile phones

It also offers DVD playback options, so if the above features are important to you (and you don't have DVD playback software on your PC already), the Studio Premier option may be the better choice. A complete list of differences is available.
Using MyDVD 9
MyDVD 9 is Roxio software through and through. What I mean by that is that it has the Roxio blue/grey user interface, and it's fairly easy to figure out. But what that also means is that there are strange delays when you click on a menu, minimizing from the taskbar doesn't work, and there are stability issues (I'll get to those in a minute). Much to my frustration, MyDVD 9 also lacks an auto-save feature – I had worked on a wedding video project for about 30 minutes, hadn't saved it yet, and after closing the preview window the application immediately crashed and I lost my work. That's just not acceptable for a modern application.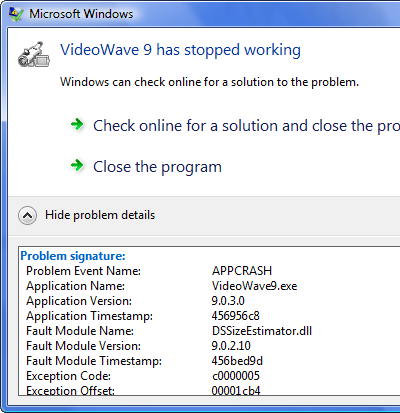 Figure 3: One of the frequent crashes I saw.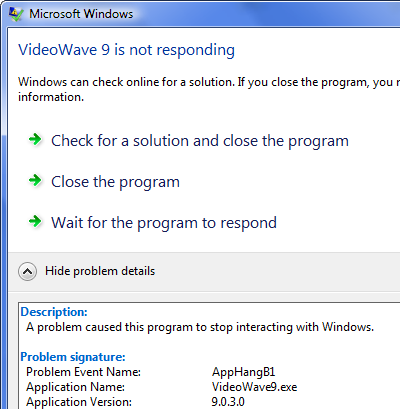 Figure 4: Another one of the frequent crash errors I saw.

Adding a sub-menu was one-click easy, but what showed up was confusing. I would have expected to be able to link a block of text to a sub-menu, but sub-menus can apparently only be linked to a button. I think buttons look a bit cheesy, so I would have preferred to be able to use text. More confusing was the fact that generating one sub-menu created four object layers: the button linking to the sub-menu, the sub-menu itself, a second sub-menu on the first sub-menu, and another sub-menu below that. Baffling, no? Thankfully, deleting the lowest-level sub-menu also deleted the third level menu - and it all still worked the way I thought it should. So what's the point then of the extra sub-menus? I have no idea.



Figure 5: The preview of the text titles was jagged and quite awful looking.




Figure 6: There's a mini mode for the main home screen, though what you're supposed to do with a blank work area is beyond me.

Two additional features offered are Slideshows and CineMagic Movies. I was eager to try the slideshow function, because earlier Sonic products had some of the best JPEG slideshows I'd ever seen. Most JPEG slideshows look fuzzy and blurry, because the JPEG is actually converted to 30 fps static video file, which results in a massive drop in quality. The Sonic slideshows were jaw-dropping crisp, so I was hoping they used that technology after Roxio got access to Sonic's technology portfolio. It was easy enough to select the 30 images for the slideshow, though after selecting them I was puzzled to see the import process seemingly do nothing for a full minute after it had imported the photos one by one. When the process finally freed up, I was able to select background music, and chose from several themes and transitions. I finished the process, burned a DVD, and all my hopes were dashed: the photo slideshow looked just as fuzzy and blurry as it did with MyDVD 8. Roxio clearly didn't take any of Sonic's vastly superior code for this task, which is very unfortunate.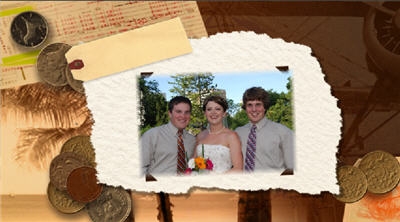 Figure 7: The CineMagic results in a wide-screen format. It looked pretty good!

CineMagic is a sort of poor man's muvee AutoProducer; you select your footage, chose between 16:9 and 4:3 aspect ratios, optionally select the scenes, select a theme, and optionally select background music. It's nice to see some sort of automated video editing, but the results were a mixed bag – I selected the wedding theme and opted for no background music because I wanted to hear the audio from the source video. What I got was a video with no transitions between cuts (which made for some nasty jump cuts) and no audio at all. I tried again with another theme, and while there were transitions this time, there was still no audio. Why doesn't the application force you to pick a music file if there's no way to use the source audio? Better yet, why can't I use the source audio from my video? muvee AutoProducer is a far better choice if auto-editing is your goal.

I tried mixing in some photos, this time selecting the travel theme, and was again surprised by some weirdness: there's a 25 second intro with some canned music and it shows small versions of some of the photos – but they're so small that there's not much point in showing them at all. So, as you can doubtless tell, neither the slideshow function or the CineMagic auto-editing impressed me.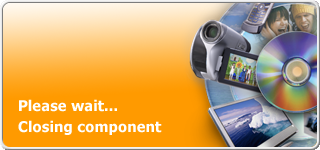 Figure 8: You'll be staring at this for a few seconds every time you exit the application.

Figure 9: You'll be constantly reminded of functionality that your version of the software lacks.

Rounding out the bad news: the title engine (for text) isn't particularly impressive, the preview of the text is extremely poor quality (see Figure 5), and when you exit the program there's a splash screen that comes up telling you that the "component is closing" (see Figure 8). There's also the fact that this software tries to up-sell you to Roxio Media Creator 10 Suite at every possible opportunity – the start up screen contains ads for the suite (see Figure 1), and the main interface shows you options that you can't use...unless you upgrade of course (see Figure 9). It's not like MyDVD 9 is some sort of free download where the entire point is to up-sell you for more features (like Pinnacle's free VideoSpin is), so I think Roxio's aggressive up-sell tactics are over the line.
Unreliable Final Output
When my project was finished, and I had previewed all the elements, I was ready for the final step: burning it to DVD. Prior to burning, there's a product validation step; it warned me about a few of my buttons overlapping on the menu. I clicked "Go To Error" to try and figure out what the problem was, but it simply took me to the editing screen and didn't show me the problem. None of the errors were serious enough to stop the burn, so I clicked "Burn Anyway" and it proceeded to the Burn Project step. There are three choices for burning, and you can pick any two: burning it to a disc, creating an image (ISO) file, or creating a folder set (the DVD folder structure on the disk). It's great that Roxio allows for this type of output flexibility – generating an ISO file makes it easy to archive the file and burn another copy of the DVD at a later date.

The first time through, I opted to burn the disc and also create an image file. The transcoding engine Roxio is using is quite fast: I timed the encoding of a 3 minute 17 second DV-AVI file and it was transcoded to MPEG2 in 52 seconds on my Intel Core 2 Duo Extreme X6800 running at 2.93 Ghz. I tested the resulting DVD in my Toshiba DVD player, and the first video file had a strange glitch – I had created the wedding ceremony video with five seconds or so of a title screen, with some background music, and had confirmed the source video file (a DV-AVI file output from Premiere Elements 4.0) was correct prior to burning. On the DVD, however, the title screen flashed up for perhaps one second, then went away – and the background music then started playing over the video itself. Why would the DVD be anything other than exactly like the source video? Only the programmers who coded MyDVD 9 can answer that question.

Frustrated, I returned to my computer and checked the video source file again – and it was fine. I tried burning the DVD again, this time creating an ISO file only, then I burned that ISO file to DVD using Nero 8 with data verification turned on. I noticed that all of the videos had to be re-rendered from scratch, which is a waste – why weren't the previously encoded files simply re-used if I hadn't changed anything? The resulting DVD passed the data verification test, so I was surprised when I put it in my PC and there was nothing but a blank screen – I couldn't get anything to come up. I verified that the DVD was in fact burned to – you can see how much of any DVD is used up by the burn pattern. It turned out that Slysoft's AnyDVD [Affiliate] was interfering with the playback of the DVD – once I exited AnyDVD playback of the DVD was fine…except that it still had the same glitch with the wedding ceremony video having the same truncated intro.

At this point I was very nearly ready to give up, but I thought I'd give it one last try: I removed and re-added the problematic wedding ceremony video (thinking maybe somehow that part of the project was corrupt), and opted to do a direct DVD burn. After waiting for all the video files to be transcoded from DV-AVI to MPEG2 for the third time, I eagerly tested the resulting DVD – and it had exactly the same problem as before with a one-second title and out of sync music. So what did I end up using to complete my wedding project DVD? Windows DVD Maker, the included tool that comes with Windows Vista. It took me all of ten minutes to add my videos, select the menu, customize it a bit, and start the encoding process. The final DVD played back perfectly, without any glitches, and looked superb. The free software that I usually overlook saved the day. Windows DVD Maker might not have much in the way of features, but it did the job properly – which I can't say for MyDVD 9.

Sonic Picked The Wrong Product to Survive
Prior to Sonic buying Roxio, they had a product that was called MyDVD but was entirely a Sonic product from top to bottom. It looks, and functioned, very differently than the Roxio product that bears the name MyDVD today. It was impressively fast, stable, and had great still-image and video quality. The consumer-level Sonic products were replaced by the Roxio products, and as you can see by the results I've gotten with MyDVD 9, that was a mistake. Sonic's $299 DVDit Pro 6 seems to be the least expensive way to get the Sonic DVD-making technology, which is a shame. Roxio might have had the better-known brand name in the consumer software space, but they definitely did not have the superior software. For all the reasons mentioned in this article, I can't recommend Roxio's MyDVD 9 to anyone – there are better products out there.

Jason Dunn owns and operates Thoughts Media Inc., a company dedicated to creating the best in online communities. He enjoys mobile devices, digital media content creation/editing, and pretty much all technology. He lives in Calgary, Alberta, Canada with his lovely wife, and his sometimes obedient dog. He's still searching for the ultimate DVD burning software package.