Executive Editor

Join Date: Aug 2006
Posts: 29,160

Installing Vista on "Unworthy" Hardware: The Results Are Better Than You Think
---
The big question many people have is whether or not their hardware will support Vista enough to run it, or if they should just keep XP until they buy a new machine. Common consensus among much of the media reporting today is that Vista requires a new PC, Vista without Aero isn't worth the upgrade, and that Vista is a system hog. Today I disproved many of those assumptions.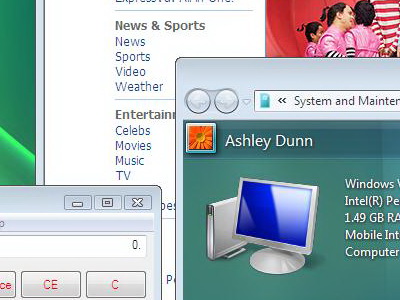 Image 1: What the non-Aero interface looks like on Vista. [Click for the full-sized image].

In the Dunn household, mixed operating system environments are something I avoid at all costs. When I switch to a new OS, every computer I have switches to a new OS just to keep my life simple. Vista presents an interesting challenge, especially when you consider that there are three laptops in my house: my wife Ashley has a Toshiba M50, I have a Fujitsu P7020, and a Fujitsu N6220. Laptops quite often require specific drivers from the manufacturer, and XP on a laptop without the right drivers is usually a recipe for disaster. Worse still, I ran the Vista Upgrade Advisor on the Toshiba M50 and with it's crap-tastic Intel graphics chip, it didn't seem like it would run Vista all that well (the software advised I could run Vista Home Basic). It did have 1.5 GB of RAM however, and a Pentium M CPU at 1.73 Ghz, so I thought "Well...maybe." The install of XP Professional had somehow become completely trashed - the registry was unable to be written to - so I didn't have much to lose.<!>

The Install
The Vista Ultimate install went quickly, and I was surprised when the laptop booted up and everything looked just as nice as every other Vista install I'd seen. I was sure I'd have to struggle to get the right graphics driver at the very least (always a problem on laptops). There was no Aero Glass - it defaulted to the non 3D/transparent window effects - but everything still looked great. The laptop was at it's native resolution of 1280 x 768 and 32 bit colour. I was expecting to see many missing items in the device manager, but interestingly enough there were only two: the mass storage controller and the audio controller: Vista identified every other piece of hardware. I brought up the wireless networking tool (yes, it installed the on-board WiFi without a hitch) and entered in my WPA password.

About 10 seconds later, Vista informed me that it had found a "solution to my problem" and the next thing I knew the Realtek on-board audio was installed and I had sound. Wow. I don't care what anyone says, that's damn slick that Vista was able to seamlessly identify the missing hardware, install a driver, and fix the problem all without a single user prompt or security warning. That's exactly the way an operating system should work.

Real Life Use
So how does Vista Ultimate work on this laptop? Well, the Windows Vista Experience Index on this laptop is 1.0. Yeah - the big one-dot-oh. When I saw that I thought it was the kiss of death. It ranked between 3.8 and 4.2 for the CPU, RAM, and hard drive performance - it's just the graphics ranked at 1.0 and 1.9 that give it the 1.0 rating. Here's the really interesting part: I installed Office 2007, and used the laptop for performing the same basic tasks my wife will perform on it (email, Word Processing, Web access). In every way, I found it performed as fast as, or faster than, Windows XP Professional. I could find no issues with running Vista on it. The only snag I ran into was that some of the programs require a Direct X 9 video card, so I was unable to use them. So far that seems to only be Windows Movie Maker, and Windows DVD Maker - neither application likely to ever be used by my wife. Every other program, including Windows Media Center, worked without a hitch.

Would newer, faster hardware give an even better Windows Vista experience? Certainly. But does Vista perform sufficiently well on this laptop to keep it instead of going back to XP Professional? You bet - the performance is snappy, and even without Aero Glass, Vista contains a wealth of user interface enhancements and security improvements that will make for a better experience. Now I'll just have to see if my wife likes using Vista and Office 2007: that's a lot of change at once. Perhaps that's my next article...

Jason Dunn owns and operates Thoughts Media Inc., a company dedicated to creating the best in online communities. He enjoys mobile devices, digital media content creation/editing, and pretty much all technology. He lives in Calgary, Alberta, Canada with his lovely wife, and his sometimes obedient dog. He's liking Vista more and more.