Executive Editor

Join Date: Aug 2006
Posts: 29,160

Vaja's Creative Zen Vision M i-volution Leather Case: Stylish Protection
---


If you own any sort of digital audio player, odds are good you've heard of Vaja - but you may have never seen one of their cases in person, because they're mostly an online company, selling direct. Vaja, based out of Argentina, makes the most high-quality leather cases I've ever seen. They offer impressive customization, and an equally impressive selection of bright, vibrant colours. This photo Quick Look article focuses on a custom case that Vaja created for my Creative Labs Zen Vision:M digital media player.

As you can see by the image above, the Vaja i-volution case covers the screen, but not the front buttons. I've found the buttons to be quite tough, but if you're particularly hard on your digital media players you may want something that covers the entire device. Vaja focused most on protecting the screen, which is, by far, the most vulnerable part of the Zen Vision:M (pathetically so).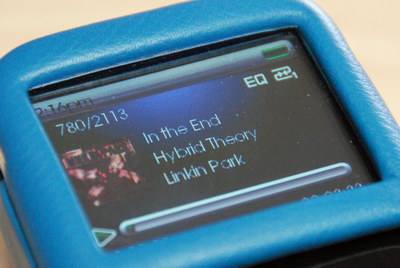 Figure 2: The screen protector is very crisp and clear, offering no discernible distortion to images or video. It is, however, another place to get dust trapped under - this means you'll have to be prepared to remove the Zen Vision:M from the case now and then to clean off the dust on both the front of the Zen Vision:M and the inside of the screen protector.
<!>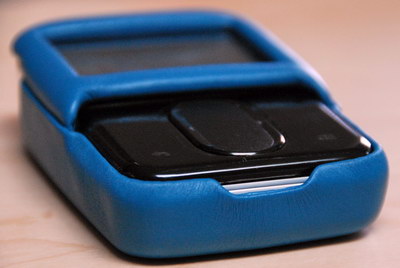 Figure 3: The underside of the case results in my biggest problem: you can't connect the dongle with the Zen Vision:M while it's still in the Vaja case. That means no synchronization, no recharging, and no video or audio out. Since the Vaja case is quite tight-fitting, this proves to be a bit of a hassle. The top of the unit is left exposed, and since this case is designed primarily to protect the screen and provide personalization, I see no good reason why the bottom couldn't be cut away a few more millimetres to allow for connecting the dongle.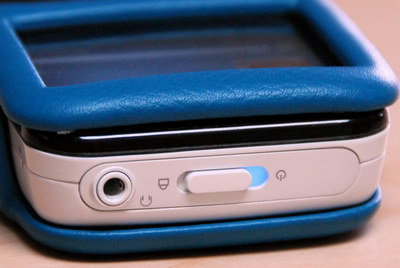 Figure 4: The top is completely cut away, allowing quick access to the power button, the hold function and the headphone jack. This area is exposed to damage though - which is a trade-off with a case like this.
Figure 5: The case is nicely cut away for the microphone port, allowing full fidelity for recording. It does, however, leave a bit more of the unit exposed that need be (they could expand the sides up a bit more).

Figure 6: There are two types of personalization options that Vaja offers: up to three lines of text (14 characters per line) in a nice sans-serif font ($10 cost) or a full logo ($30 cost). As you can see above, I opted to get the Digital Media Thoughts logo imprinted, and it looks fantastic. Very crisp and clear - logos with small print and fine detail may not look quite as good, but there's no better way to make a case your own than by slapping your logo on it.

The i-Volution cases start at $70 USD, and with all the customizations they offer, there are over 1000 possible combinations. If you want to combine "Limeade" with "Vibrant Orange" and a custom logo to create the funkiest case this world has seen, you can do exactly that. The vibrant blue I chose for this case makes for an eye-catching case that looks very unique. Other options include adding a clip ($4 more) or a rivet clip ($20 more), and the personalization options mentioned above. Vaja cases aren't for the bargain hunters, but if you want to express yourself by creating a unique case, while still protecting your Zen Vision:M, this case is a good choice. If, however, you're constantly synchronizing and recharging the unit, you may want to look at a case that allows the dongle to be attached while still keeping the Zen Vision:M in the case.

Jason Dunn owns and operates Thoughts Media Inc., a company dedicated to creating the best in online communities. He enjoys mobile devices, digital media content creation/editing, and pretty much all technology. He lives in Calgary, Alberta, Canada with his lovely wife, and his sometimes obedient dog. He thanks the cow that provided this lovely Vaja case.