Possible Zune Prototype?
---
"Now that Toshiba's just released the P20K and P10K flash-based players (which also look a bit like the Nano), we have to wonder whether this will be the hardware the flash-based Zune will use."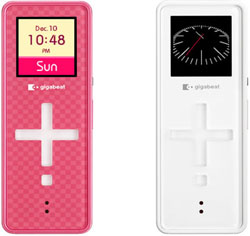 Here we are not even a day into launch, and there's already speculation on the next Zune models. We've known all along that the Zune isn't a single player, but an entire product line; we have just seen the beginning. Since it's common knowledge that Toshiba manufactured the first generation Zune, the folks over at Gizmodo wonder if this new release from Toshiba could be any indication of the future Zune competitor to the iPod Nano. As others have pointed out, I think Microsoft's long term plans call for more in-house designs for the Zune, as opposed to updating and re-branding another manufacture's design. Using Toshiba design for the first gen was most likely to facilitate a rush to hit the market. Now that Zune has hit the shelves for the holidays, the Zune team has a little more time to concentrate on future designs. While we are at it, what would you like to see in future Zune models, hardware wise?