Executive Editor

Join Date: Aug 2006
Posts: 29,160

The 80 GB Zune Fact Sheet
---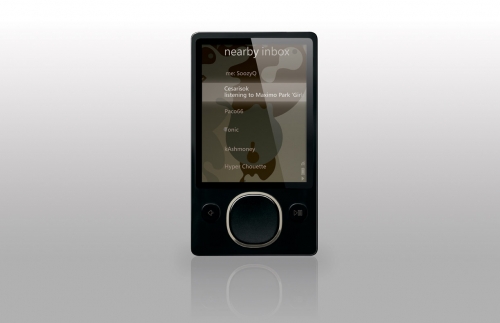 Microsoft Zune 80GB Fact Sheet (October 2007)

Name: Zune® 80GB
Manufacturer: Microsoft Corp.
Category: Digital media player
Availability: November 2007
Price: $249.99 ERP1
Color: Black

Product Overview: For uncompromised portable video and audio playback, Zune 80GB combines a beautiful 3.2-inch screen, innovative touch controls, wireless capabilities and premium headphones with storage for up to 20,000 songs, 25,000 pictures or 250 hours of video.2 Enjoy your music, videos, pictures and podcasts — wherever and whenever you want. Listen to your favorite radio station with the built-in FM tuner or wirelessly share tracks with your friends3 to discover new music on the go. Browse the Zune Marketplace to choose from millions of songs, albums, DRM-free (without digital rights management) MP3s, music videos, podcasts and more.

Feature Details:

Beautiful, big color screen. A bright, durable 3.2-inch glass screen delivers uncompromised portable video viewing. Your music, video and pictures never looked better.
Touch controls. Fly effortlessly through your song, picture and video collections with the new Zune Pad. Innovative new touch controls let you brush or click.
Wireless sync. Cut the cord to your PC. Refresh your Zune with new content anywhere you charge your device. Connect to your PC through your home wireless network by setting your Zune to automatically sync the latest podcasts, music and more from your stereo dock, AC adapter or speaker dock accessory.
Zune Social, a beta online community Web site. Discover, share and leave your musical mark. Create a Zune Card and personal profile at Zune.net to reflect your musical identity. Invite friends, share song recommendations, post comments and browse member pages to discover new music and connect to other people with similar musical tastes.
Zune Marketplace. Get your fill. Over 3 million songs, albums, DRM-free MP3s, music videos, audio and video podcasts and more. Buy individual songs and albums or choose a Zune Pass to get unlimited downloads for a flat rate.
Wireless Zune-to-Zune sharing.3 Share full-length tracks of your favorite songs, albums, playlists, pictures and even audio podcasts. Listen to the full track of any song you receive up to three times, and even pass along songs you receive to other friends who have a Zune. If you like a song you receive, you can easily add it to your wish list and then buy it from your PC the next time you sync.
Recorded television content to go. The Zune software will now automatically import broadcast content recorded on Windows® Media Center for Windows Vista® Home Premium or Ultimate, so consumers can sync them onto their Zune and hit the road.4
Built-in FM radio. With the built-in FM tuner you can listen to your favorite local FM radio stations while you're on the go. Advanced tuning capabilities allow you to see the name of the song and artist currently playing on select frequencies.5
Import your music. Zune software will automatically import your existing music, pictures and videos, including music you have ripped into iTunes and Windows Media® Player, even transferring your existing playlists and song ratings in one easy step. Some content may be protected by the service you purchased it from, so those files cannot be imported.
Your games. Your music. Your way. Plug your Zune into your Xbox 360® and customize the soundtrack in your favorite games. You can also stream the music, pictures and videos from the Zune software on your PC to your Xbox 360 console using a wireless connection.
Accessories. A full line of Zune accessories are available to enhance your experience wherever you are, at home, on the go, in the car or working out.


#########

The information contained in this fact sheet relates to a prerelease software product that may be substantially modified before its first commercial release. Accordingly, the information may not accurately describe or reflect the software product when first commercially released. The fact sheet is provided for informational purposes only, and Microsoft makes no warranties, express or implied, with respect to the fact sheet or the information contained in it.

1 Prices herein are estimated retail prices (ERP). Actual retail prices may vary.

2 Music estimates are based on 128Kbps Windows Media Audio (WMA) files, with a length of four minutes each. Pictures transferred to your Zune will be optimized for Zune screen size. Video estimates are based on 500Kbps Windows Media® Video files with 128Kbps WMA audio tracks.

3 The Zune-to-Zune sharing feature may not be available for all songs on your device, and works only between Zune devices within wireless range of each other. This feature allows recipients to play full-length sample tracks up to three times.

4 Requires a PC running Windows Vista® Home Premium or Windows Vista Ultimate and an integrated or external TV tuner.

5 To display station name and song information, stations must broadcast an RBDS signal. Availability may vary, so check out your favorite stations on your Zune to see if this functionality is present.