Are you Ready for a Wireless Audyssey?
---
"The new Wireless Speakers are cut from the same mold, but feature redesigned drivers and Bluetooth functionality -- not to mention a snazzy matte white with glossy black finish. $250 snags you pair of speakers, each loaded with two .75-inch tweeters, a duo of three-inch woofers and a dual four-inch passive bass radiators, and all of which are aided by Audyssey's BassXT, EQ and Dynamic EQ DSPs for pushing sound out."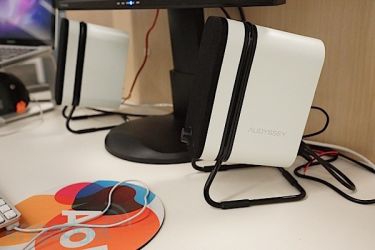 While there are options such as AirPlay or Squeezebox, another option for streaming music is through Bluetooth. Many smartphones and tablets come with this capability, and allow you to pipe your favourite tunes through something more substantial than speakers that are the size of your fingernail. Though with other solutions, including things like uPnP, I imagine that the only benefit of streaming through Bluetooth would be better battery life.