Dell Expands Flagship XPS Line: Adds XPS 14 & XPS 15
---
"Following the success of our XPS 13, our customers wanted to see more of the XPS brand," said Sam Burd, vice president, Dell Personal Computing Product Group. "The XPS 14 and 15 laptops offer powerful performance, thoughtful design and a superb user experience, along with enterprise-friendly features so you can use them for work and for play."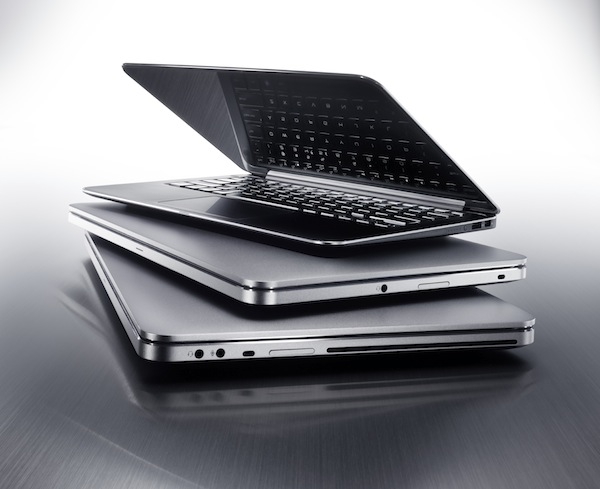 To complement their existing XPS 13 Ultrabook, Dell has added 14-inch and 15-inch XPS models.
Touting the XPS 14 as having "up to 11 hours of (8-cell, non-replaceable, 69WhH) battery life," it has an aluminum chassis and a silicone base, Intel Core i5 or i7 processor options, 4GB RAM standard (8GB max), 14-inch 400 nit HD+ edge-to-edge Gorilla Glass WLED display, a backlit chiclet spill-resistant keyboard, and optional high-performance graphics. A wide variety of options are available, including Intel's RapidStart and SmartResponse (startup, hibernate and caching improvements) technology, using a traditional hard drive plus a 32GB mSata card to achieve SSD-like performance. A 512GB SSD option is offered. There is a mobile broadband (WAN) option that adds a back leather back to improve radio performance. Interesting that Dell offers an "Ultrabook configuration" even though the XPS 14 weighs in at just under 5-pounds (2.1kg).
The 5.8-pound (2.6kg) XPS 15 has an aluminum chassis with a silicone base, a 9-cell 65WhH battery ("up to 8 hours, 11 minutes" battery life), an edge-to-edge 15.6-inch 350 nit Gorilla Glass WLED screen, a choice of Intel Core i5 or i7 processors, 6GB RAM standard (16GB max), NVIDIA Optimus graphics, a backlit chiclet spill-resistant keyboard, and an option for a slot-loading Blu-ray disc drive. Curiously, there appears to be no SSD-only option from Dell for the XPS 15, at least in their press release.
The XPS 14 pricing starts at $1099, and the XPS 15 starts at $1299, with both models available now.
__________________
"Not everything that can be counted counts, and not everything that counts can be counted." Albert Einstein
---
Last edited by Michael Knutson; 06-30-2012 at

02:45 AM

..