Microsoft Surface: A Well-kept Secret Emerges
---
"We saw plenty of crazy transforming tablets at Computex Taipei a couple of weeks back, even some that ran Windows 8, but nothing that could have prepared us for what Microsoft itself is building. The company unveiled a pair of 10.6-inch tablets dubbed "Surface" today, and they sound pretty sweet, with built-in stands, covers with embedded keyboards, and cases molded out of vapor-deposited magnesium ("VaporMg") with neatly beveled edges for a (hopefully) comfortable grip."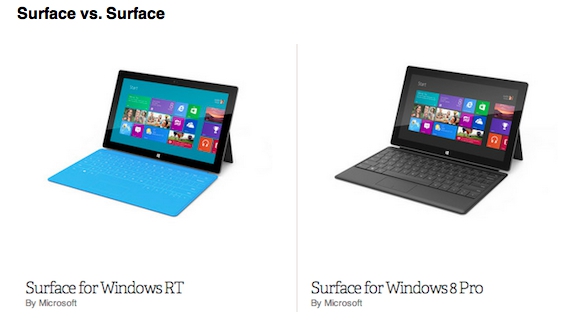 Who says that technology companies can't keep secrets? Microsoft's announcement of their new Surface tablets and accessories seemed to take the blogosphere by surprise.
Microsoft demoed only the magnesium-encased Surface for Windows RT version, with an NVidia Tegra (ARM) processor, 32/64GB SSD, weighing in at about 1.5-pounds, 9.3mm thick, with a 10.6-inch screen and a 16:9 aspect ration - labeled as "HD." The back contains a workable kickstand, and several 3mm cover keyboards were shown, that magnetically attach to the tablet. The battery will be 31.5Wh. This version will run Windows with desktop and MS Office, but will NOT run legacy applications. This is the "consumer" version of Surface.
The second tablet, Surface for Windows 8 Pro, will sport an Intel Ivy Bridge processor, and be somewhat larger, 13.5mm thick and about 2-pounds. With a higher resolution display, labeled "Full HD," a larger 42Wh battery, larger SSD offerings, and higher-speed ports (USB3 vs USB2), this tablet will run legacy Windows applications, MS Office, and of course new Windows 8 Metro apps. This is the "professional" or "prosumer" version of Surface.
With these announcements, the Windows 8 tablet race has quickly ratcheted-up, and other vendors are quickly releasing specs on their competitive products, many already touting themselves as being better than the new MS tablets. Now we wait for further news on price and availability. Anyone ready to buy a Surface?
__________________
"Not everything that can be counted counts, and not everything that counts can be counted." Albert Einstein