Cricket to Offer iPhone on June 22nd as Prepaid Unlimited for $55 Per Month
---
"On June 22, Cricket Wireless will become America's first fully prepaid wireless carrier to offer Apple's iPhone, with an "unlimited" $55-per-month plan."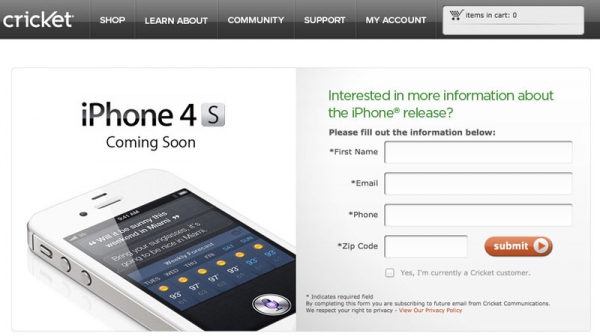 Looks like they will be offering the 16GB iPhone 4S for $500.00 and the 8GB iPhone 4 for $400.00 USD, with both being compatible with their $55.00 USD per month unlimited talk, text and data plan. This makes them the larges of the regional carriers to receive the iPhone.
__________________
iPhone 4, 1.6 GHz Core 2 Duo MacBook Air, Apple TV, 2.66GHz Intel C2D Mac Mini, 1TB TC, Airport Extreme,several iPods and an iPad, 32GB Wi-Fi version.
Follow me
on Twitter.