Facebook Camera App, Their Own Instagram?
---
"Facebook today dropped a new photo-sharing app for the iPhone and iPod Touch called Facebook Camera. And it looks pretty familiar!"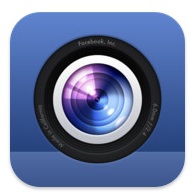 A very similar app to Instagram, but the difference here is it uploads directly to Facebook instead of to a separate account. Makes me wonder just how long Instagram will last, but it certainly shows why Facebook decided to buy Instagram...they needed to get rid of the competition! I had trouble finding it when I was searching on the iTunes Store for some reason. So if you are having the same problem, here is the link.
__________________
iPhone 4, 1.6 GHz Core 2 Duo MacBook Air, Apple TV, 2.66GHz Intel C2D Mac Mini, 1TB TC, Airport Extreme,several iPods and an iPad, 32GB Wi-Fi version.
Follow me
on Twitter.