Adobe's Creative Cloud Subscription Service - Worth It?
---
"Today is a big day for Adobe. Not only is the company officially unveiling the next versions of virtually all of the applications in its Creative Suite, but Adobe is also launching its Creative Cloud online offerings. This marks a major change in how Adobe is selling and marketing its flagship product: while the company will continue to offer a shrink-wrapped version of CS6, it's also introducing a subscription service with this update. For $49/month with an annual subscription or $79/month for month-to-month memberships, users can now get full access to any CS6 tool, including Photoshop, InDesign, Illustrator, Premiere Pro and AfterEffects. The suite will also include Adobe's new HTML5 design and development tools Muse and Edge, and will be deeply integrated into the company's tablet apps. Users will be able to download and install these apps on up to two machines."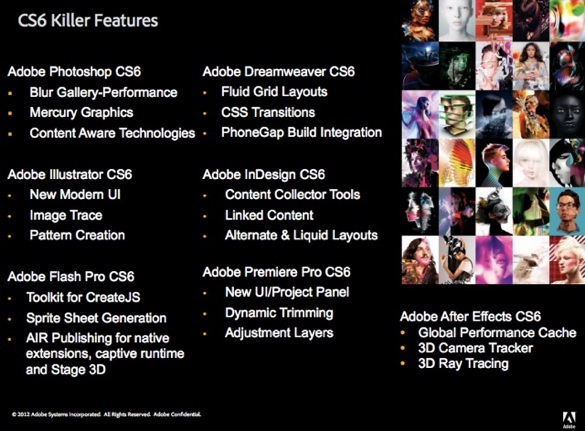 Adobe recently announced the newest release of Creative Suite, the sixth version (CS6). As shown in the graphic above, there are numerous feature enhancements across all the products in the suite. Upgrading even one of the Abobe apps can be an expensive proposition for most people. Personally, I have a copy of Photoshop that is a few revisions behind, but would like to upgrade it. It is probably a good time to do so from a functionality perspective. What is intriguing with this latest release of apps, is that a new option purchase option is available. Called Creative Cloud, this new purchase option is actually a subscription service. For $49/month (US) with an annual subscription or $79/month (US) for month-to-month memberships, users can now get full access to any CS6 tool. For me, this is an incredibly tempting offer.
The Read link article has all the details about the new edition of Creative Suite, and the new subscription service. Once you've had a chance to read it, drop back here and let me know if you think the subscription service is a good deal.