HTC One S Coming Soon to T-Mobile
---
"This new-ish page for the HTC One S has a terrific list of all the features available on the One S, still expected to hit store shelves a week from today on April 25th."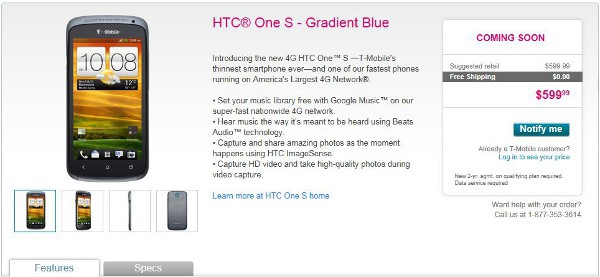 This may actually be my favorite phone from the One series. While it "only" has a 4.3 qHD screen (540x960) it still has the same high quality camera, 1GB of RAM, 1080p 60fps video recording, Beats Audio, and Snapdragon S4 processor as the One X. On top of that not everyone wants a huge phone with a 4.7" screen and the One S seems to get better battery life than the One X, possibly due to the One X having a larger and higher resolution display. Both the phones come with Android 4.0 (Ice Cream Sandwich). The HTC One S should be available from T-Mobile for just under $600 on April 25th. Hopefully there will be a subsidized price option as well. Make sure you check the T-Mobile site for more information. My favorite feature of the One series is probably the Snapdragon S4 processor. It's the first 28 nm processor available in a smartphone and offers a "next generation" of speed and battery life.
Would you rather have the super-sized 4.7" 720p display or the 4.3 qHD display with better battery life?