Apple and Wall Street, A Love Story
---
"Apple's record quarter is prompting a lot of analysts and Wall Street watchers to up their estimates for the stock's performance."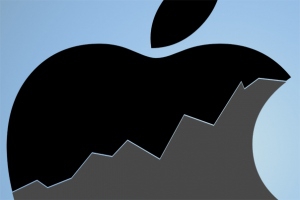 Well, maybe love story is too much but they certainly do like what Apple is doing and have increased their estimates regarding the stock's performance projection. This was in response to yesterday's financial report by Apple. Lots of good news in that report too including:
iPad sales up 111% to 15.4 million units;
iPhone Q1 sales were 37.04 million units;
Apple retail sales up 43% from last year at the same time;
Apple has $97.68 billion cash on hand;
Apple's Q1 revenue topped $46 billion.
Lots to digest for sure, including the news that Apple TV sales were 2.8 million units during the last fiscal year ending in September of 2011, but the little device that would not die set Q1 sales record with 1.4 million units sold. So 50% of last years total in the first quarter of this fiscal year is nothing to sneeze at, although it certainly doesn't reach the numbers of the other devices in the lineup. But then, why should it when it really isn't being pushed by Apple, and when it is still considered a "hobby" device in Tim Cook's words. What does give me hope that it will continue is that he said he couldn't live without it. What are your thoughts on the Apple fiscal report?
__________________
iPhone 4, 1.6 GHz Core 2 Duo MacBook Air, Apple TV, 2.66GHz Intel C2D Mac Mini, 1TB TC, Airport Extreme,several iPods and an iPad, 32GB Wi-Fi version.
Follow me
on Twitter.