Charge Your Portable Devices the Solar Way
---
"SunLeaf Solar has introduced the US$179 SunLeaf Pro, the iPad solar charger. It's an USB-based device that plugs into an electronic gadget like the iPad or a Kindle, and can fold up to an eighth of its size."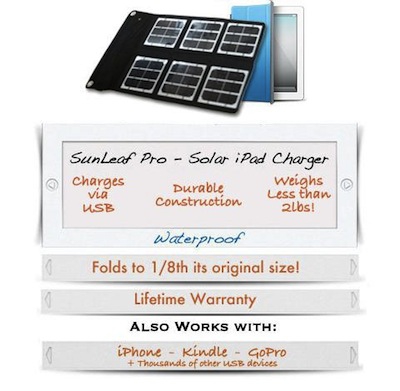 This appears to be well made, and if it can output the power needed to charge an iPad 2, even better! Kind of steep at $179.00 USD but if you need a charge and are out in the middle of nowhere, I'm betting you will be glad you have it. You can find out more about it at the SunLeaf Solar site.
__________________
iPhone 4, 1.6 GHz Core 2 Duo MacBook Air, Apple TV, 2.66GHz Intel C2D Mac Mini, 1TB TC, Airport Extreme,several iPods and an iPad, 32GB Wi-Fi version.
Follow me
on Twitter.