Nikon J1 Reviewed by Digital Camera Resource Page
---
"The Nikon 1 J1 (priced from $649) is the entry-level model in Nikon's brand new line of mirrorless interchangeable lens cameras. The 1-System cameras feature a new 10 Megapixel CX-format sensor, which is smaller than Micro Four Thirds and APS-C, but larger than what you'll find on compact cameras and the Pentax Q. It also uses new CX-mount lenses, which have a 2.7X crop factor. Image stabilization is built into select lenses, rather into the body itself."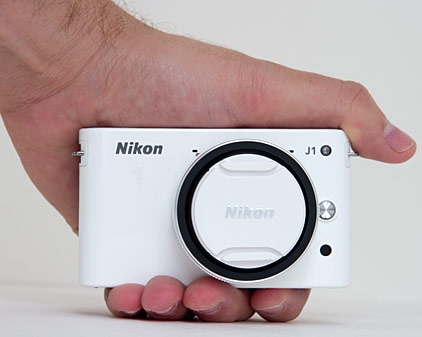 DCResource.com has a review of the Nikon J1 up, and the samples here look much better. Image quality is quite close to a Micro Four Thirds camera, but dynamic range seems to suffer a bit. The "small" sensor does not look so bad now, does it? The camera really is quite small, as you can see. Nikon really needs to release a set of zoom lenses that can match the size of the camera, just like what Panasonic has done. Read the review for all the details, including the performance of the hybrid AF system built in to the imaging sensor!
__________________
Baka. Soku. Zan. - The justice behind the dysORDer.