WPBench Hits New Version: Offers Online Comparisons
---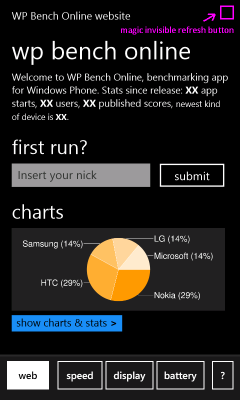 Ever wonder how your WP7 phone stacks up against others? Now's your chance - WPBench, the first WP7 onboard benchmarking tool, now offers you the ability to upload your test runs and see how your device does against the competition. The app is in the marketplace now and costs $1.59, but the trial is free and fully functional.
__________________
"A planner is a gentle man, with neither sword nor pistol.
He walks along most daintily, because his balls are crystal."