Thunderbolt, FireWire 800 or USB 2.0, Who Wins?
---
"The folks over at Macworld got one of the new Pegasus R6 RAID systems in for testing and put it through its paces. The testing proved to be a huge win for Thunderbolt, which showed a massive improvement over FireWire 800 and just decimated USB 2.0."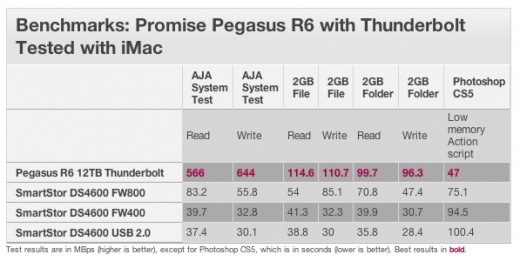 That is a crazy jump in improvement over FireWire 800 and USB 2.0 doesn't even come close. You can see the full results at Macworld but from the chart above, there doesn't seem to be any question that Thunderbolt is the clear winner.
__________________
iPhone 4, 1.6 GHz Core 2 Duo MacBook Air, Apple TV, 2.66GHz Intel C2D Mac Mini, 1TB TC, Airport Extreme,several iPods and an iPad, 32GB Wi-Fi version.
Follow me
on Twitter.