More on iOS 5, The Contacts App
---
"Another interesting discovery related to the Contacts app in iOS 5. You can now, if you want, add 'related people' to your contact cards. The Related People field is disabled by default so you add it first by tapping the Add Field option in the contact card editing interface. Choosing Related People at the bottom lets you pick among a dozen pre-populated labels such as mother, father, parent, brother, sister, child, friend, spouse, partner, assistant, manager and other."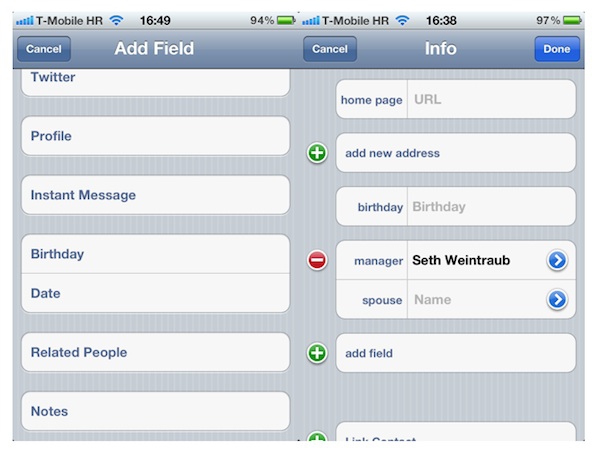 More and more tidbits are coming out about iOS 5 as people delve further into it. This would be a pretty slick feature if you could then use iMessage to send messages to groups such as "family" or any other group label within contacts.
__________________
iPhone 4, 1.6 GHz Core 2 Duo MacBook Air, Apple TV, 2.66GHz Intel C2D Mac Mini, 1TB TC, Airport Extreme,several iPods and an iPad, 32GB Wi-Fi version.
Follow me
on Twitter.