Google Docs FINALLY Gets An Android App
---
"And my favorite feature: Using the app and your phone's camera, you can turn photos with text into editable Google documents with the power of optical character recognition (OCR). Just create a new 'Document from Photo' or select the camera icon from the widget, and your converted document will appear in your documents list shortly after you snap the picture."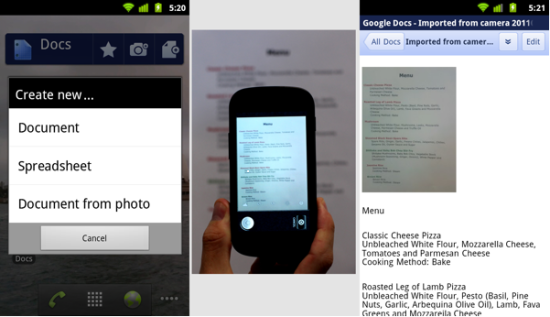 As far as I'm concerned, Docs and Gmail are Google's two killer web apps, so it's always surprised me that they didn't have a native Docs app for Android. That changes today! Google has just released an app with a ton of features that satisfy the most avid Docs users. One of the most exciting features is the one described in the quote above from the Google Mobile blog. Imagine taking a picture of a document with your phone and then being able to edit it within Docs.
What are you waiting for? Get thee to the Android Market and download. Then let us know in the forum what you think.