Lenovo X1 Takes On the MacBook Air
---
"Lenovo is taking another swing at the MacBook Air. Having discontinued their X300 ultraportable line, Lenovo seemed content to compete at the 11" and 12" form factor, without sitting a horse at the popular but Air dominated 13.3" form factor. But a listing on a Swiss computer distributor's site leaked and documents released on the Lenovo channel distributors' site confirmed that the ThinkPad purveyor is planning to take on the Air with a 21.5 mm thick ultraportable notebook called the X1."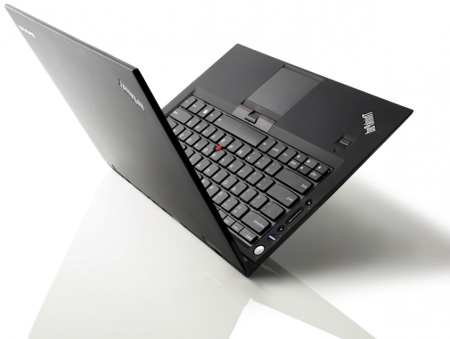 Lenovo is set to battle the MacBook Air with their new X1, throwing a much faster processor, backlit keyboard, and new battery technology into the fray. Advertised in Switzerland as "the thinnest ThinkPad ever built," the X1 has passed eight US military specification durability tests, has a (outdoor panel) 1366x768 screen made of Corning "gorilla glass," and sports the newest 32nm Intel Core i5 processor. Windows 7 64-bit Professional is standard. Also standard are a LED-backlit keyboard, USB 3.0, HDMI-out, TPM 1.2 security module, a fingerprint reader, 8GB RAM, 160GB SSD, and -unlocked- 3G networking. Battery life is estimated at five hours using only the primary battery, and ten hours adding a 35W battery "slice." This same battery appears to be also headed for Lenovo's X-Slate Honeycomb tablet in the near future.
Some of this information is missing in the (English) story, but the Swiss-German link has additional tidbits to be gleaned, including a starting weight of about 3-pounds, increasing to about 3.8-pounds, presumably adding the battery slice, with the thickness ranging from 16.5-mm to 21.5mm. This looks like a pretty spectacular notebook, so it'll be interesting to see if it performs as well as it looks. Available in Switzerland today, expected cost is estimated at around $2,200 in the US. Swiss prices are higher. Pretty expensive, but it does include Lenovo's three year warranty. Nice to see some serious competition in this space!
__________________
"Not everything that can be counted counts, and not everything that counts can be counted." Albert Einstein