NoDo Fixes Exchange 2003 GAL Lookup
---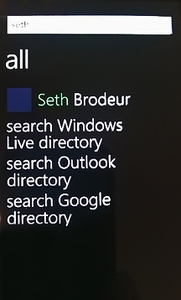 GAL lookup has been available in WP7 since the beginning, but only if you were connecting to Exchange Server 2007 or 2010. Exchange 2003 users were out of luck...that is until NoDo. There might be a couple of hoops to go through though - you'll need to delete your exchange account on your phone first, reboot, then set up your account again. Hey, but at least the option's there if you need it.
__________________
"A planner is a gentle man, with neither sword nor pistol.
He walks along most daintily, because his balls are crystal."