63% of Streaming Web Do Not Require Flash
---
"A new study shows that nearly two thirds of all streaming Web video is HTML5 compatible. In other words, Adobe Flash is no longer needed for a majority of Web content."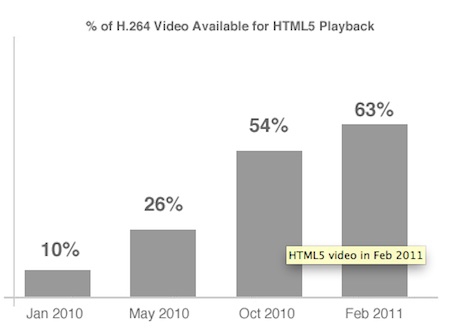 HTML5-compatible video aka H.264 is now comprising more than 60% of the streaming video on the Internet. MeFeedia indexed approximately 30 million videos from over 33,000 sites to come to this conclusion. Amazingly, in less than a year, over 50% of the video out there has dropped Flash as a requirement. I find I don't miss it most of the time on my laptop using Safari, but If there is something I want to see I just switch to Chrome. How about you, do you use Flash or do you find that it isn't that big of a deal not to have it installed on Safari?
__________________
iPhone 4, 1.6 GHz Core 2 Duo MacBook Air, Apple TV, 2.66GHz Intel C2D Mac Mini, 1TB TC, Airport Extreme,several iPods and an iPad, 32GB Wi-Fi version.
Follow me
on Twitter.