Google Reader App For Android Gets An Update: Now With Widgets!
---
"Today we're excited to announce some updates to the official Google Reader app for Android. Over the last couple of months, we've added some of your most-requested features."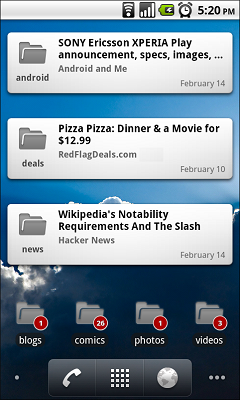 The official Google Reader app for Android just received a very nice update. The biggest listed features are the addition of ticker or unread count widgets that can be pointed at any single feed or person you follow and the ability to mark everything above your current reading location as read. That is the big one for me and something I really missed from the mobile web version of Reader. There are a few other nice things not mentioned in the post. There are a few subtle UI tweaks here and there that are very nice, the menu and been rearranged/optimized, and there is a new option in the setting to fully cache commonly accessed feeds for off-line reading once per hour! You can't choose which feeds, which seems a bit weird to me, but this will be a nice option for those who have nothing better to do on the subway. My world is pretty much funneled though Google Reader these days so I am very excited for this new update. Anyone else as addicted to this app as I am?