Everki Track Laptop Messenger Bag
---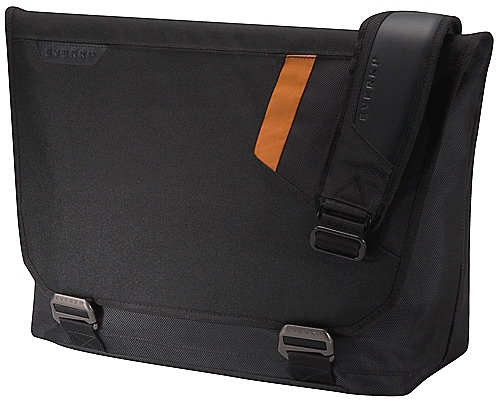 Product Category: Laptop Bag
Manufacturer: Everki
Where to Buy: Amazon (affiliate link)
Price: $59.99
Specifications: Length: 16.54 in., Width: 7.09 in., Height: 12.99 in., Weight 1.98 lbs.
Pros:
Handy compartment designed for Apple iPad or any other similar sized tablet computer;

Lots of additional compartments to store other electronics, including power cords;

Small enough in size to take anywhere, yet can hold a lot more equipment than you would think.
Cons:
Clasps on front flap are difficult to manage while on the move;

The bag only accommodates up to a 15.6" laptop.
Summary: The Everki Track Laptop Messenger Bag, is a bag with a twist. It comes with a compartment especially designed to carry an Apple iPad. Given the wildly popular reception the iPad has received since its debut, there have been a lot of products designed to carry and protect it, but this is the first time I have seen a solution designed into a laptop bag, and that makes it rather unique. While some people might argue that the whole reason they bought an iPad was to ditch their laptop, for other people, myself included, that just isn't realistic. As handy as my iPad is, there are just some things that are done more efficiently with a laptop. So how do I easily carry both? Everki attempts to answer that question with their Track Laptop Bag. Just how successful are they? Let's see!
Trial by Fire
To test this bag, and I mean really put it through its paces, I decided it needed to go to Mexico with me. Now, granted, I was already going to Mexico, so it's not like I can go globetrotting whenever I get a new product to review, but the timing on this one was just too good to ignore. I had already determined I was taking my brand new shiny iPad on the the trip, but considering I was about to review a bag that could handle a laptop and an iPad, well let's just say my laptop was overjoyed to find out it was going to sunny Mexico as well.
Laptop bags, well, let's say most bags and myself, have a kind of sordid history. I have owned many through the years and liked none of them. My shoulders have a decidedly non-bag friendly slant to them, and over the years, trying to get a standard laptop bag, or even most carry on bags to stay on my shoulders has been an exercise in futility and frustration. So you can imagine my sincerity when I tell you that I was very appreciative of the fact that this bag is a messenger style bag designed with a nice long strap to sit cross shoulder and use my body to support the bag rather than one very slanted shoulder. The bag itself is well made and very durable. I don't claim to be an expert on such things as the materials these bags are made from, but I have owned cheap bags and expensive bags, and while this bag is priced somewhere in the middle of the scale, it definitely has the feel of a higher end bag. As I mentioned above, the shoulder strap is plenty long, so I had no issues adjusting it to fit myself and I am by no means a small person. The shoulder pad on the strap is nice and thick and does a really good job of relieving the pressure that narrow straps can exert on a shoulder. All things considered, in matters of construction and comfort, this was turning out to be an exceptional bag.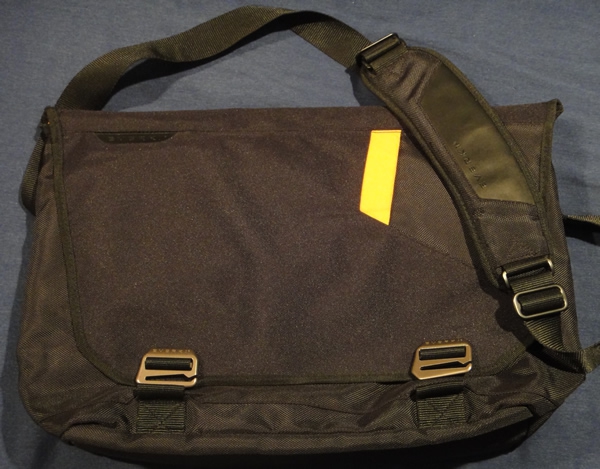 Figure 1: A front shot of the bag.
Figure 2: A shot from the rear of the bag. Notice that nice long shoulder pad.
Compartments Anyone?
Well we know that the bag is comfortable, and it is durable, but how well does it carry out its primary function? Mainly that of holding stuff, and in this case, valuable electronic stuff. Well I can honestly tell you, that at first glance, the bag did not look large enough to hold all of what it said it could, but I have learned that first glances rarely ever tell the whole story. The exterior of the bag is black, which tends to be the standard color for most of laptop bags I have ever seen. The front of the bag primarily consists of the main flap and the clasps that lock it down. On the back of the bag is a pocket that looks like it would be good for holding papers or folders and such. If you unzip the bottom of the pocket, it can be used to attach the bag to a cart or suitcase. The interior of the bag is bright orange and extremely plush. It is divided into several different sized compartments for organizing your gear. The rearmost compartment in the bag is obviously meant for a laptop. The bag is large enough to accommodate a laptop with up to a 15.6" screen. To date there is only one model of this particular bag, so anyone with a larger laptop is unfortunately going to have to look elsewhere for an all in one iPad/laptop solution. In my case, I didn't have to worry about my laptop being to large, I had to worry about it being too small. I like my laptops to be in the ultra-portable range, the smaller, the better. My largest laptop is a 13" MacBook Pro, but for the trip and this review, I decided to go with my 11" Alienware M11x. It fit in the compartment with a lot of room to spare, which made me wonder if it would shift around a lot while carrying the bag. I did not need to worry about it though. By the time I had all my stuff in the bag and the flap closed and secured, the laptop stayed put. I think the plushness of the interior helps keep things from sliding around.
The next compartment in the bag was clearly designed for the iPad. The iPad fits easily and securely into it, and the plush material used on the inside of the bag is perfect for protecting it from scratches. I have the iPad case made by Apple, and though it was kind of a tight fit, I was able to get the iPad, while in its case, into the compartment. While the iPad clearly does not need a case to be carried around in this bag, I wanted the Apple case along, because its flap can create a stand for the iPad, which is handy when watching movies on a flight. Even though the bag was clearly designed with an iPad in mind, that same compartment could easily be used for other tablet devices, like a Samsung Galaxy, Kindle, or a Nook to name a few. Next to the iPad compartment is a smaller one that would be good for a smartphone or other similar sized device. I ended up using it for my Sony PSP. The next compartment is a zippered, non padded one that I found useful for storing all my power cords. On the outside of the bag, but still enlcosed by the flap are a number of pockets made to hold credit cards, pens, and such. There is a small pocket here with a velcro flap that might be good for keys. I used these extra pockets for my passport and tickets. They are really easy to access on the go if you pull the main flap up.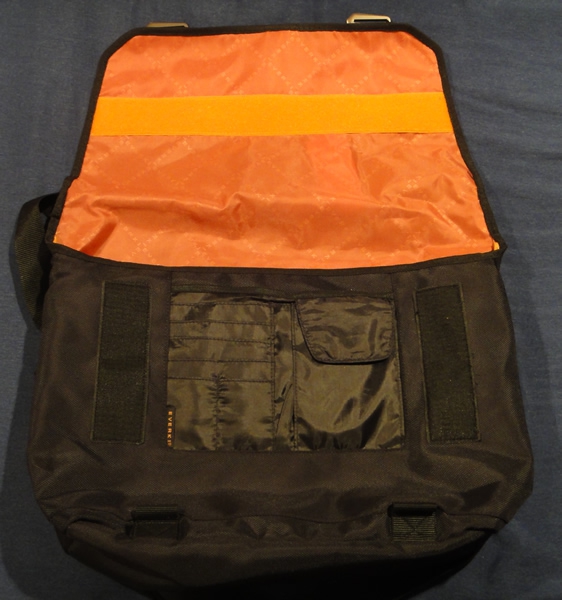 Figure 3: A view of the bag with the main flap open. You can see the outer pockets I mentioned and the velcro for securing the flap.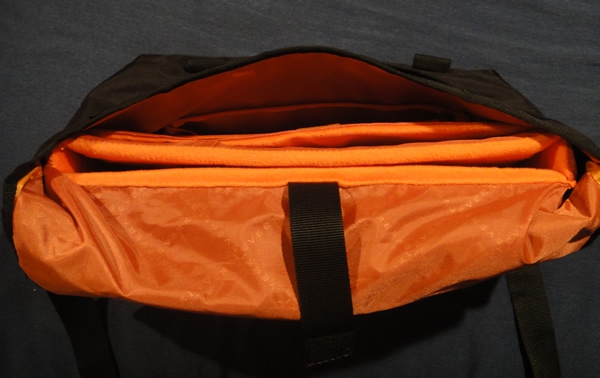 Figure 4: An interior shot of the bag. You can easily see how soft and plush that interior is.
A Traveling We Shall Go
For the trip I was easily able to pack my laptop, iPad, PSP, digital camera with dock, Bluetooth stereo headphones, charging cords for all my devices, my passport, and my tickets all into the bag. When everything was packed I noticed that I still had a lot of room leftover in the bag should I need it. The bag may be rather small in size, but it can easily hold a respectable amount of equipment. The main flap has two methods to be secured. The first is velcro, simply closing the flap engages it. The second method uses two hook clasps on the end of the main flap that slide into small loops at the bottom of the bag. Being that I was going to be in and out of airports and traveling to a foreign country, I made sure to use the clasps for added security. My one simple complaint about this bag so far is that, while those clasps are easy to fasten when it is not being carried, they become a bit awkward to use when the bag is on your person and you are on the move. Since my passport and tickets were in the bag, I had to open it to get at them quite often. I could have left the claps undone and relied on the velcro, but when it comes to the security of my electronics, I tend to be a bit paranoid. Don't get me wrong here, I was able to work the clasps, get what I needed, and secure everything again while on the move, I just think a better clasp design could have been utilized here to make it easier.
Other than my complaint about the clasps, my experience with the bag was great. The shoulder pad was comfortable on my shoulder, even with the long waits standing in line. Because of the way the bag is worn and distributes weight across the body, I hardly even noticed it was there after a while. I would also like to take a moment to note here, that while in Mexico I burned my back pretty badly. But even with a sunburned back, I hardly noticed the bag on the return trip. The bag stowed nicely under the seat in front of me so that I had easy access to it during the flights. Using the different compartments in the bag made it easy to not only organize my electronics, but also to get at them easier because I knew exactly where they were. The plush material that makes up the interior of the bag did a great job of protecting my gear. My trips through airports and crazy taxi rides bounced the bag around a lot, but through it all everything came out functioning and without a scratch. It's a real shame that I did not have this bag on some of my prior trips.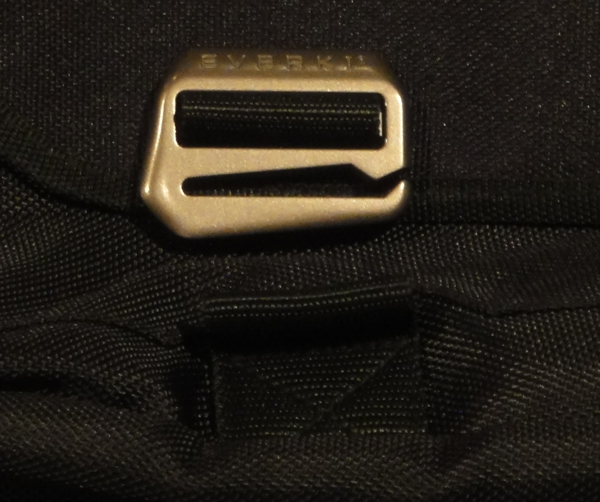 Figure 5: Close up shot of the hook clasp.
Conclusion
If you are in the market for a bag that is designed to carry your laptop as well as your iPad, then look no further. The Everki Track Laptop Messenger Bag is a well constructed, comfortable bag, that easily allows you to protect and take your favorite electronic devices wherever you may go. As I mentioned above, I would have liked the clasps to be easier to manage while wearing the bag, but it really is a minor nuisance and by no means a deal breaker for me. It would also be nice if they had another model of the bag, one geared toward larger laptops.
Chris Baxter is an IT Professional and part time Web Designer who resides in North Aurora, Illinois. Playing video games, watching movies, or reading a good book are what occupies his time when he is not fixing computers or trying to get his hands on the latest gadgets.

Do you enjoy using new hardware, software and accessories, then sharing your experience with others? Then join us on the Thoughts Media Review Team! We're looking for individuals who find it fun to test new gear and give their honest opinions about the experience. It's a volunteer role with some great perks. Interested? Then click here for more information.