Apple PC Market Share On The Rise
---
"See that graph? That's Apple taking over the world... if you think the iPad counts as a PC that is. The chart represents PC Market Share in the USA (AKA United States of Apple), and includes Apple with and without the iPad counted as a PC. That massive blue leap is Apple with the iPad."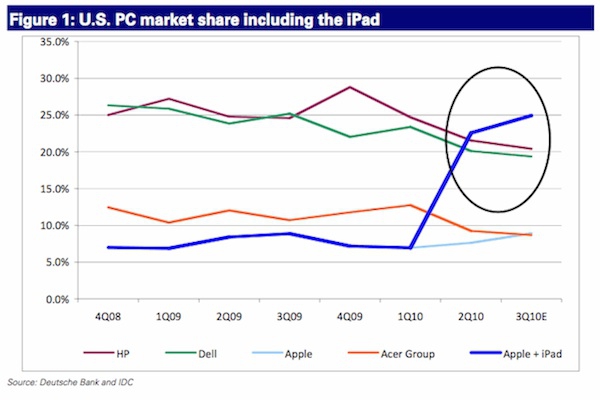 You could argue both sides I suppose, but due to it's limitations I don't really consider the iPad a full-fledged PC. Regardless, you can still see that while everyone else is on the decline, Apple is going up with or without the iPad included in the mix. What are your thoughts? Do you think the iPad should be included in the mix or not?
__________________
iPhone 4, 1.6 GHz Core 2 Duo MacBook Air, Apple TV, 2.66GHz Intel C2D Mac Mini, 1TB TC, Airport Extreme,several iPods and an iPad, 32GB Wi-Fi version.
Follow me
on Twitter.