Laptop Mag Asks: Best of CES 2010 – Where Are They Now?
---
"Each January at the Consumer Electronics Show, companies gives us a glimpse into both the near and far future. And while many products we get a chance to see come out within the first or second quarter of the year, many take a little longer... if they come to market at all. And, of course, devices that seem to have promise on the show floor sometimes don't look so hot once we actually get our hands on them. On the eve of CES 2011, we thought it would be interesting to take a look at last year's crop of Best Of CES winners to see where they are now."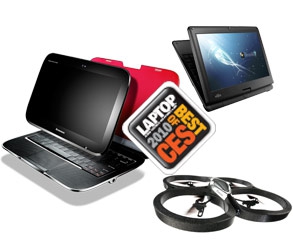 As CES 2011 quickly approaches where no doubts we will be teased and excited by many of the new technologies shown there, Laptop Mag raised a valid point when it asks 'Where is the tech from CES 2010?'. Every year we get shown all sorts of amazing things, but how many of them actually see the light of day? How many are vapourware? Laptop Mag reviews the devices that they gave awards to at CES 2010 and whether they were indeed successful or not.