Artensoft Photo Mosaic Wizard, or: View ALL of Your Photos in One Big Picture!
---
"Artensoft today [Aug 31, 2010] introduced Artensoft Photo Mosaic Wizard 1.0, a software tool specifically designed to let anyone create a mosaic picture from hundreds of smaller tile images. The program offers a simple wizard-driven interface that allows the beginner to create the first photo mosaic project in a few minutes, without opening a manual."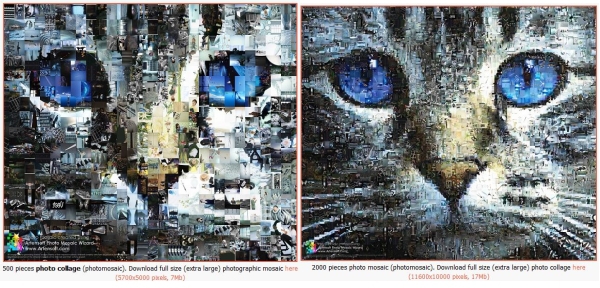 The good folks at Photography Blog picked up on Artensoft's press release for their new "Photo Mosaic Wizard 1.0," which joins their existing "Photo Editor" application, both of which are intended to combine power and ease-of-use at reasonable prices ($49.95 each, USD, for non-commercial use). The Mosaic Wizard looks like it could be a lot of fun to play with, although no mention is made of how long it might take to assemble a complete work, which may well be very large, as the more photos you start with the better the resulting mosaic will look. For example, the picture on the left above was assembled from 500 "pieces," whereas the one on the right used 2000 pieces - and ended up at 11600x10000 pixels and a 17Mb file size! Fortunately, Artensoft provides a trial version of each of application, so you test them out for yourself, as well as a Gallery of mosaic samples.